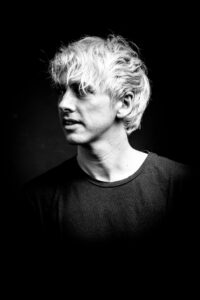 Sam Perkin is composer-in-residence with Crash Ensemble, Ireland's leading new music ensemble; a group of world-class musicians who play the most adventurous music of today. 'Grey Area', his first major work for Crash Ensemble, blends the worlds of Street Skateboarding with Contemporary Music and was commissioned by Engage Arts Festival for Crash Ensemble with its first three performances taking place at Music Town in Dublin, Sounds From A Safe Harbour in Cork, and Musica Nova Festival Helsinki. 'Waves' is an attempted self-cure for tinnitus and is the fruit of a bountiful collaboration between The Irish Chamber Orchestra and the composer over the last few years, supported by The Arts Council of Ireland. 'Language', a substantial work for Solo Violin, was commissioned by West Cork Chamber Music Festival for contemporary violin specialist Miranda Cuckson. 'Twitter', for Flute Choir, Audience, Smartphones and Video was commissioned last year for La Côte Flûte Festival, Switzerland. As part of his Crash residency, he will also compose a set of pieces inspired by his love of linguistics. In his recent artistic work, Sam has been working with blending Sine Tones with Acoustic Instruments to make them glow, as in his 'Orchestra In The Digital Age' for Orchestra and Sine Tones, composed as part of Composer Lab 2019 for the RTÉ National Symphony Orchestra and organised by The Contemporary Music Centre Ireland.
"A thing of mesmerising beauty" – David Kettle, The Scotsman
He has enjoyed fruitful collaborations with musicians/groups such as Finghin Collins, Crash Ensemble, The Irish Chamber Orchestra, Miranda Cuckson, Alex Petcu, Kilkenny Arts Festival, Nathalia Milstein, Music For Galway, ConTempo Quartet, ConCorda Chamber Music, The Irish Association of Youth Orchestras, RTÉ NSO, Spotlight Chamber Music Series, Co-Orch Dublin, Fidelio Trio; and festivals such as Ortús Chamber Music Festival, Engage Arts Festival, Killaloe Chamber Music Festival, The New Ross Piano Festival, West Wicklow Festival, West Cork Chamber Music Festival, Gregynog Festival – Wales, La Côte Festival – Switzerland, Sound Scotland Festival, and Musica Nova Festival – Finland. Sam Perkin holds degrees in Composition from CIT Cork School of Music, Ireland, and an Artist Diploma from Conservatoire National Supérieur de Musique et de Danse de Lyon, France, where he was awarded the Prix Salabert for Composition. In 2017 he was awarded The Next Generation Bursary from The Arts Council of Ireland.
"The piece I most want to hear again is Perkin's." — Michael Dervan, The Irish Times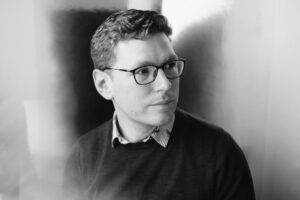 Award-winning composer Eoghan Desmond draws on his vast experience as a choral singer and professional bass-baritone to write music that showcases a deep understanding of the voice and its capabilities. Eoghan's music is heavily influenced by his long association with the cathedral choral tradition, and the majority of his work either embraces the norms associated with that tradition, or steps outside it. Much of his work is focused on achieving a polyphonic fluency where every note in every voice is vital to the work.
From Cork and currently resident in Dublin, Eoghan is a member of Chamber Choir Ireland, and a Lay Vicar Choral in St. Patrick's Cathedral, Dublin. He is a PhD candidate at the University of Aberdeen, studying Composition of Sacred Choral Music with Dr. Phillip Cooke.
Eoghan's music has been performed all over Ireland, by ensembles such as Chamber Choir Ireland, ConTempo String Quartet, and New Dublin Voices, and is also in demand abroad. In 2015 he was awarded the Seán Ó Riada prize for Choral Composition for his piece, Mother Goose's Melodies. He is also the recipient of the 2015 Jerome Hynes Young Composer's Award, for which he composed a setting of Rimbaud's Phrases. Among others, he has been commissioned by Chamber Choir Ireland, Christ Church Cathedral,
Dublin, St. Mary's Pro-Cathedral, Dublin, The Royal School of Church Music, New Dublin Voices, St. Anne's Cathedral, Belfast, and the Chapel Royal of HM Tower of London. His choral music has been recorded by the UCD Choral Scholars and The Mornington Singers.
As a choral singer, Eoghan has toured worldwide with such renowned choirs as St. Patrick's Cathedral Choir, Chamber Choir Ireland, Ars Nova Copenhagen, Anúna (with whom he also appears on the award-winning soundtrack of Diablo III), and New Dublin Voices. In addition to this, he is an accomplished soloist with an extensive repertoire of oratorio solos and song, specialising in 20th century English song. He is a pupil of vocal coach Judith Mok.