In 2020, Ortús musicians brought their music into the community during the festival in collaboration with Cork ETB School of Music, CIT Cork School of Music and Cork County Council.
Monday, 24th February
Chamber Music Masterclasses with students from Cork ETB School of Music in Glanmire Community College coached by Ortús musicians followed by a short concert and a 'Meet the Musicians' question & answer session.
Wednesday, 26th February at 16.30
Open rehearsal in the Doolan Room of the MTU Cork School of Music, Union Quay (entrance is free – all are welcome!)
Thursday, 27th February at 18.00
Concert in collaboration with Festival Sponsor, Hayfield Manor. Recital by Killian White and Ellen Jansson for hotel guests and clients.
Saturday, 29th February, at 13.15
Pre-Concert Prelude by the Cróisín Quartet (Cork ETB School of Music) at The Inkwell Theatre, Tracton Arts Centre.
F. Baruch – Leichtes Klavier-Quartett Op. 32 F. Seitz – 'Minuet' from Piano Quartet in G major Op. 35
The Croísín Quartet are seasoned young chamber musicians, having each played with other ensembles prior to forming the Croísín Quartet in September 2019.
Ellen Crowley and Lily Munday (violins), Éadaoin Cronin (cello) and Karla O'Hare (piano) rehearse weekly with their tutor Ms Lisa O'Brien and their most recent performance was in the historic St Multose Church in Kinsale with the Ballinspittle Comhaltas, Conor Atkins and Paul Clesham. Cróisín have enjoyed their masterclasses with Ortús alumnus Brendan Garde in the weeks prior to the festival and are excited to perform in The Inkwell Theatre, Tracton Arts Centre.
Sunday, 1st March at 14.15
Pre-Concert Prelude by the Quay Quartet (CIT Cork School of Music) in the Curtis Auditorium, Union Quay.
Beethoven String Quartet in C minor, Op. 18 no. 4 Allegro ma non tanto Andante scherzoso quasi allegretto Menuetto: Allegretto Allegro – Prestissimo
The Quay Quartet, founded in 2019, is made up of four CIT Cork School of Music students: Kate Ní Shé and Anna Jansson on violins, Conor Galvin on viola and Roisín Fleming on cello. All four are current members of the National Youth Orchestra of Ireland and three have played with the Cork Youth Orchestra. The quartet is tutored by Gregory Ellis, formerly of the Vanbrugh String Quartet.
Kate studies violin with Colette O'Brien as well as learning piano with Nicholas O'Halloran. In addition to her numerous prizes at Feis Maitiú she also won the CSM Junior Concerto Competition in 2018. Kate also plays traditional Irish music on fiddle and concertina.
Anna is currently a violin student of Katherine Hunka. She is a multiple prize-winner at both ESB Feis Ceoil and Feis Maitiú and is also a piano student of Mary Beattie.
Conor is a viola student of Simon Aspell and a violin student of Eithne Willis. He also studied piano with Tom Jansson and French Horn with Seán Clinch and is a Feis Maitiú prizewinner. A cello student of Christopher Marwood and piano student of Conor Palliser, Roisín has won prizes at ESB Feis Ceoil, Feis Maitiú and CIT CSM on both cello and piano.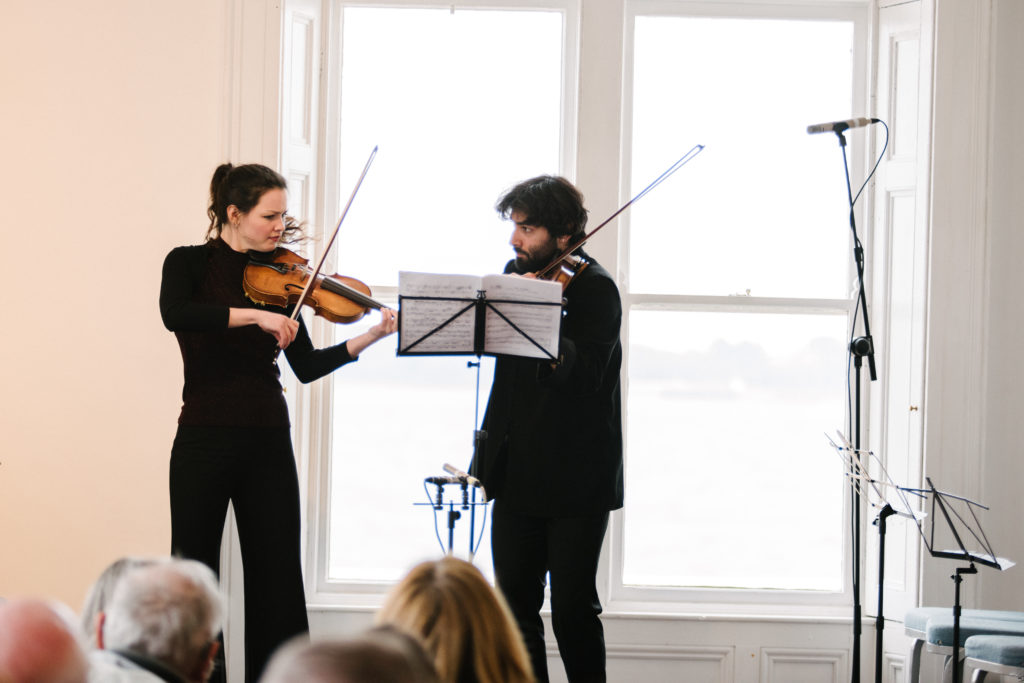 Co-Artistic Director Sinéad O'Halloran (cello) will be joined by William Ball (oboe) and Rosa Hartley (violin) as they bring music out of the concert halls and into the community.
Tuesday, 3rd March
● Educational concert at Inch National School, Killeagh
● Performance at St. Raphaels Centre, Youghal (for residents and staff only)
Wednesday, 4th March
● Educational concert at Scoil na mBuachaillí, Clonakilty
● 'Introduction to Chamber Music Concert" at the Cork County Library
Thursday, 5th March
● Educational concert at Whitegate National School
● Musical Interlude at Marymount Hospice