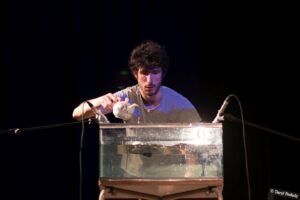 Sebastian Adams (b. 1991) is an Irish composer, performer and artistic director with wide-reaching interests that include experimental text pieces, early music and artificial intelligence. He is currently working on a series of pieces for solo instrument and transducers, as well as Tense Systems, an ongoing intermedia project involving assembling instruments in realtime in front of multiple simultaneous videos.

His music is performed regularly by top Irish musicians, with recent commissions including the Irish Chamber Orchestra, Music Network, both RTÉ orchestras and the Beckett Chamber Music and East Cork Early Music festivals. Performances abroad include Paris, Montreal, Vienna, Cologne, Potsdam, Antwerp and Görlitz, and his music has been broadcast on radio across the European Union. He was Composer in Residence for RTÉ lyric fm in 2016/17. In 2017 he represented Ireland in the International Rostrum of Composers. 
Besides this, Sebastian works in MAX to create computer-generated notated music which can be 'written' and sight-read mid-concert.

A significant aspect of Sebastian's creative output is as an organiser, curator and advocate of new music. His ensemble Kirkos has become a leading light of the Irish scene, providing a vital arena for the most exciting young composers in the country and exploring the gamut of the most experimental and striking music written in our time. Projects include Dublin's first Fluxus Happening, multi-sensory concerts in total darkness, and many Irish premieres of important international works. Since January 2019 he has been Coordinator of the Association of Irish Composers. He is also Co-director of Fishamble Sinfonia, an orchestra of young professionals specializing in baroque and early classic repertoire, and former Chair of the Irish Composers Collective. He has organised the premieres of well over 400 pieces.

As a viola player, Sebastian has premiered many solo and chamber works, and enjoys working closely with composers on their new music. He has improvised in Dublin, Bern, La Chaux de-Fonds, New York and London, including [in] live theatre [presentations]. He also performs early music on viola and gamba.

Sebastian studied in Dublin (Kevin O'Connell & Jonathan Nangle) and Vienna (Karlheinz Essl). His most recent viola teacher was Simon Aspell (The Vanbrugh).