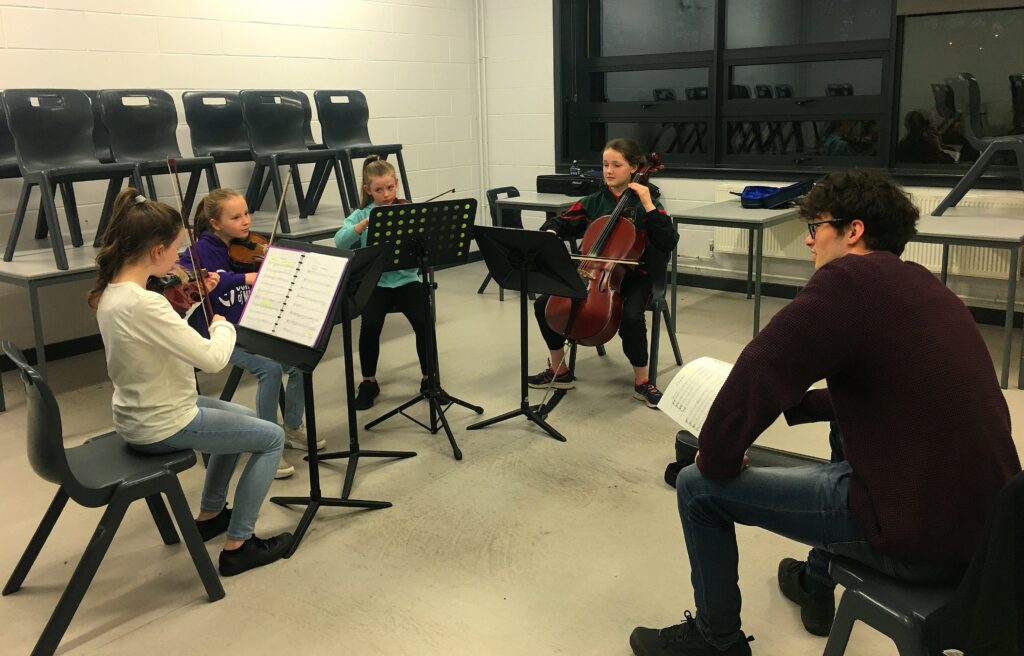 Outreach
Since our first festival in 2016, Ortús musicians have been committed to bringing our music out of the concert hall and into the community with energy and enthusiasm. These performances have included libraries, Kent Train Station, Cork Airport, Marymount Hospice, The English Market, Hayfield Manor and St. Raphael's Centre for adults with disabilities. A highlight of this year's programme is a performance in Blackrock Castle Observatory incorporating the observatory's current installations and a selection of music inspired by the night sky.
We are particularly passionate about nurturing young ensembles. In collaboration with our educational partners at Cork ETB School of Music and MTU Cork School of Music, various young ensembles will participate in interactive Masterclasses with visiting Ortús musicians and will also be given the opportunity to perform in the Young Musicians Platform concert at the end of the week.
Our concerts and interactive workshops in Primary and Secondary schools have been very popular over the past 8 years, and this year the Marmen Quartet will bring music into two Primary Schools.
Outreach plans for the 2023 festival are as follows:
February 23rd-2nd March – Masterclasses MTU CSM
February 24th – Masterclasses Cork ETB School of Music in Coláiste Choilm Ballincollig
March 1st – Concert in Cork City Library – 4pm (entrance free)
March 2nd – Concert Blackrock Castle Observatory 7.30pm (sold out)
March 5th – Young Musicians Platform Concert, Doolan Room, MTU CSM 1.30pm (entrance free)
March 6th – Interactive School Workshops at Ballinora Primary School and Scoil Mhuire Primary School Ballincollig
Participating Ensembles include:
Cantabile String Quartet
Haydn Op. 76 No. 3, "Emperor"
Rachel Dunne (violin)
Kate Thompson (violin)
Bridget Roche (viola)
Clara Kamlah (cello)
Siciliana Quartet
Schubert No. 10, D 87 in Eb
Isabelle Kearney (violin)
Roisin Martin (violin)
Sinéad Fleming (viola)
Harry Neal (cello)
Chroma Quartet
Dvorak No. 10, Op. 51 in Eb
Lucia Murphy (violin)
Ellen O'Connell (violin)
Karl Riedewald (viola)
Grace Hernan (cello)
Thalia Quartet
Schubert No. 14, D 810 "Death & the Maiden"
Myn Fitzpatrick (violin)
Kate O'Shea (violin)
Ciara Moloney (viola)
Alina Obreja (cello)
Evergreen Quartet
Haydn Op. 76 No. 1 in G
Aisling Martin (violin)
Sean Hurley (violin)
Conor Galvin (viola)
Oscar Casey (cello)