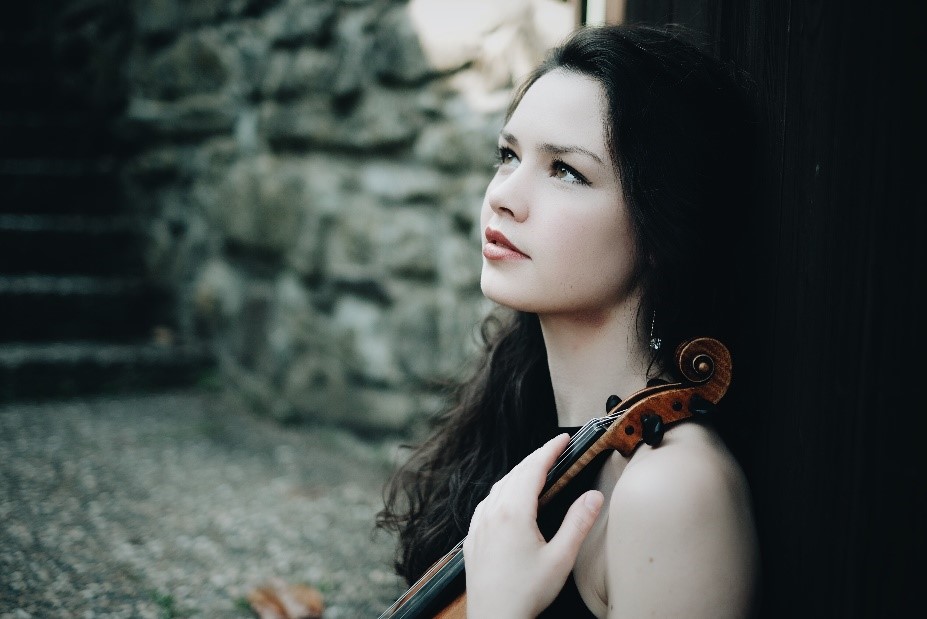 One of Ireland's most accomplished violinists, Co-Artistic Director and violinist Mairéad Hickey was NCH Irish Young Musician of the Year 2010 – 2012. As well as winning prizes at renowned Irish competitions, she won third prize as well as a Special Prize for the best interpretation of a virtuoso work at the 2016 International Louis Spohr Competition and first prize in the Jeunesses Musicales Violin Competition, Romania 2012. In 2017 she was awarded a Special Prize in the Berliner International Music Competition and the Manhattan International Music Competition.
Performing regularly throughout Ireland, she has played with both the RTÉ National Concert and Symphony Orchestras as well Camerata Ireland and Kremerata Baltica. She has performed in every major concert hall in Ireland and abroad in venues including the Royal Festival Hall, London, Beethoven-Haus, Bonn and Carnegie Hall, New York.
Born in 1996, Mairéad began playing the violin at the age of three with Jyrki Pietila. From 2003 to 2014 she studied with Adrian Petcu at the CIT Cork School of Music, Ireland and spent a year in France studying at the Conservatoire de Nantes with Constantin Serban. She is now studying with Mihaela Martin at Kronberg Academy, sponsored by the Hilmar Kopper Stipendium.
She has taken masterclasses with musicians such as András Schiff, Rita Wagner, Ferenc Rados, Gidon Kremer, Dora Schwarzberg, Vadim Repin, Mariana Sirbu, Ana Chumachenco, Vadim Gluzman, Yossi Zivoni, Mauricio Fuks, Gabor Takács-Nagy, Christoph Eschenbach, Marc Danel and Ivry Gitlis among many others.
An enthusiastic chamber musician, Mairéad has been invited to perform at the West Cork Chamber Music Festival, the Westport Festival of Chamber Music, the Clandeboye Music Festival, the Mantova chamber Music Festival, the Grachtenfestival and the Rolandseck Festival. Mairéad participated in Chamber Music Connects the World 2016, Kronberg, where she performed with Steven Isserlis and Christian Tetzlaff. She has also collaborated with artists including Barry Douglas, Tabea Zimmermann, Fazil Say, Marc Coppey, Mate Bekavac, Irena Grafenauer, Alexander Lonquich, Andreas Reiner, Pieter Wispelway, Michel Lethiec, Dmitry Sitkovetsky, Boris Berezovsky and the Vanbrugh Quartet.
Her love of chamber music led her to co-found the Ortús Chamber Music Festival in 2016 in her native Cork, of which she is Artistic Director.
Mairéad also plays traditional Irish music and has won eight world Irish fiddle titles. She has an instructional app 'Irish Fiddler' which is available on iTunes.
Mairéad currently plays a Giovanni Tononi violin, kindly loaned to her through the Beares International Violin Society. She is supported by the Arts Council and the Music Network Music Capital Scheme, funded by the Department of Arts, Heritage and the Gaeltacht.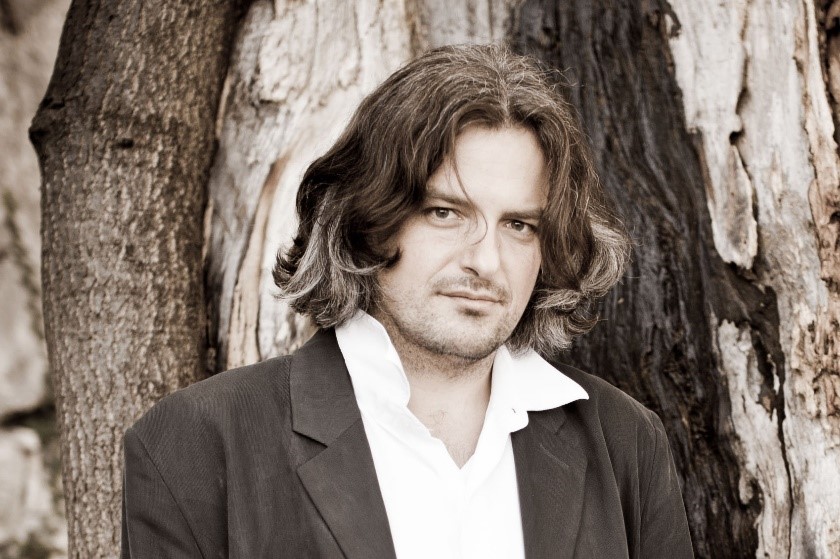 Mate Bekavac, clarinettist is recognised as one of the great clarinettists of his generation, despite of his "commercial shyness". Wherever he appears, he's hailed among colleagues and critics as the "secret favourite", a full-blooded musician and a virtuoso who risks and isn't spoiled by current fashion tendencies of music industry. A devoted, silent seeker with a special, subtly nuanced sound beyond bright or dark, French or German clarinet stereotype tendencies (he is perhaps the only one who ever gained perfection in both systems), always in favour of musical expression and sincere transmission of written or hidden musical texts. His repertoire ranges from baroque adaptations, classical, romantic and contemporary clarinet repertoire, as well as jazz and klezmer influenced pieces. He gained his wide international acclaim by his single time performance of his own arrangement of the Carmen Fantasy, which is documented on YouTube.
He was born in Ljubljana, Slovenia in 1977 and received his first musical education with F.Trzan and D.Brlek in native Ljubljana. He continued his studies at University of Graz with B.Kovacs, then took his MA degree at Salzburg Mozarteum with A.Brandhofer. He also studied in professional studies program at Juilliard School of Music in New York under C.Neidich and in "cycle de perfectionnement" at Paris Conservatory (CNSM) with Michel Arrignon. He has won the Mozarteum 1992 award, the Eurovision Jury award in Warsaw 1994, Grand prix of the Yamaha competition in Vienna 1994 and competitions in Lisbon (1994), Seville (1995), Belgrade(1997). He was also finalist of YCA competition on New York 1996. He appeared as soloist with chamber orchestras Franz Liszt, Cappela Istropolitana, Camerata Israel, Moscow soloists Salzburg soloists, Munich soloists and Zagreb soloists, Orchester der Philharmonie der Nationen, Saarlandischen Rundfunk, Orchester der Oper in Frankfurt, Symphonie Orchester Basel and all Slovenian orchestras.
His special devotion, love and central part of his musical career is chamber music, played with Gidon Kremer, Yuri Bashmet, Lyn Harrell, Heinz Holliger, Irena Grafenauer, Kuss-Philharmonia Berlin-, Arriaga-, Minguet and Doric string quartets, Elena Baskhirova, Khatia Buniatishvili, Katia Skanavi, Patricia Kopachinskaja, Sol Gabeta, Alina Ibragimova, Frans Helmerson, Nicolas Altstaedt, Claudio Bohorques, Maxim Rysanov, Antoine Tamestit, members of Orchester der Bayerischen Rundfunk, MET-orchestra New York and London Symphony orchestra. He collaborated with conductors M. Jansons, B.Haitink, N.Harnoncourt, K.Masur, Z. Mehta, C.Davies, N.Jaervi, C.Mackerras, C.Hogwood, M.Perahia, I.Perlman. Frequently he is guest at festivals in Lockenhaus, Jerusalem, Les Museiques in Basel, Rheingau Musik Festival, Ludwigsburger Festspiele, Dubrovnik, Lucerne and Munich. As an orchestral musician he played solo clarinet in Chamber Orchestra of Europe, Mahler Chamber Orchestra and Royal Concertgebouw Orchestra.
He tends to enjoy most of his time away from the daily tumult in the Slovenian mountains, studying, researching, developing new insights and ways of musical understanding as well as discovering nature and passionately cooking on open fires for his friends and himself.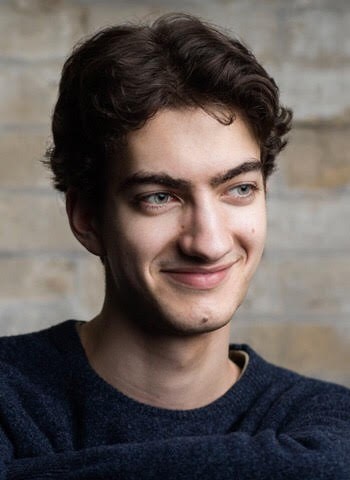 Stephen Waarts', violin, innate and individual musical voice is establishing him as a firm favourite with audiences. With a voracious appetite for repertoire, Stephen has already performed over thirty standard, as well as rarely performed, violin concertos and is a passionate chamber musician.
Forthcoming highlights include a return to the Festspiele Mecklenburg-Vorpommern and the Philharmonie Zuidnederland as well as debuts with Orchestre National de Belgique, Szczecin Philharmonic, Slovak Philharmonic, Cape Town Philharmonic and Oulu Symphony. Stephen performed with Martin Helmchen as part of the Luzerner Sinfonieorchester's concert series at Mount Pilatus; he gave both recital and chamber concerts as part of his 2018 Verbier residency at Schloss Elmau, collaborated with András Schiff during the pianist's 2018/19 residency at the Berlin Konzerthaus, and performed with Tabea Zimmermann at the Beethoven-Haus in Bonn. Stephen will also give recitals in Japan, France, Italy and Belgium.
Stephen appeared at the Lincoln Center as part of the 2018 Mostly Mozart Festival, made his debuts with the hr-Sinfonieorchester under Christoph Eschenbach, Kansas City Symphony under David Zinman, Tampere Philharmonic, and Munich Symphony Orchestra. In 2017, Stephen made his New York concerto debut with the Orchestra of St. Luke's, as part of the Young Concert Artists' annual gala, which received critical acclaim in both the New York Times and The Strad. He has made highly successful debut recitals at the Merkin Concert Hall, New York; Kennedy Center, Washington DC, Isabella Stewart Gardner Museum, Boston, the Louvre in Paris, Dubrovnik Summer Festival and Tonhalle Zürich.
In June 2018, Stephen recorded his debut recital album for Rubicon Classics with pianist Gabriele Carcano, featuring works by Schumann and Bartók – composers he champions – and the album was released in November 2018. Stephen will also be collaborating on a Hindemith recording project with Christoph Eschenbach for Ondine Classics.
His prize-winning success at the 2015 Queen Elisabeth Competition – including securing the majority vote of the television audience – boosted international attention. In March 2017 he was awarded the prestigious Avery Fisher Career Grant. Following his debut at the Festspiele Mecklenburg-Vorpommern in 2017, Stephen was awarded the 2017 soloist prize which was presented in September 2018. In 2015, he was awarded the Mozart Gesellschaft Dortmund scholarship following his appearance at the Krzyżowa-Music Festival.
Stephen is currently at the Kronberg Academy studying under Mihaela Martin and recently graduated with a Bachelor's degree from the Curtis Institute, Philadelphia where he studied under Aaron Rosand. Prior to this he worked with Itzhak Perlman at the Perlman Music Program and Li Lin at the San Francisco Conservatory. In 2013 he won the Young Concert Artists International Auditions in New York, aged just 17. He was also prize-winner at the 2013 Montreal International Competition and won first prize at the 2014 Menuhin Competition.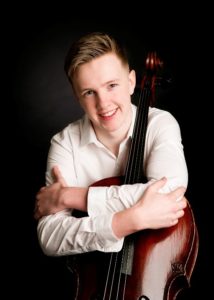 Killian White is the first cellist to be awarded the RDS Music Bursary, the single largest annual classical music award in Ireland, and one of the largest in Europe. Killian was described as "an outstanding winner who impressed with a superb performance and a crystal clear sense of purpose," by John O'Kane (RTE) and, "undoubtedly a performer with a very exciting career ahead of him" by Michael Duffy (RDS CEO). Prior to being awarded the bursary, Killian was the recipient of numerous awards and prizes, including the Fr Frank Maher Award (2017), the Aileen Gore Cup and RTE Lyric FM Award at ESB Feis Ceoil, the National Concert Hall Young Musician Award, the Flax Trust Award and the Audience Prize at Camerata Ireland Clandeboye Music Festival (2015).
Born in 2000, Killian studied first with Martin Johnson, principal cellist with the NSO, and then with Christopher Marwood at the Royal Irish Academy of Music. He recently commenced a Bachelors degree at the Barenboim-Said Akademie in Berlin, under world renowned professor Frans Helmerson. This year in Berlin he performed at the Pierre Boulez Saal and at the James Simon Gallerie, while also engaging in solo performances in London, Dublin and throughout Ireland.
Killian has a particular passion for chamber music and performed in the National Concert Hall Chamber Music Gathering in January 2017, 2018 and 2019. He recently performed as part of the Ophelia Quartet at the West Cork Chamber Music Festival. He also enjoys orchestral performance and in January 2016 he was principal cellist with the National Youth Orchestra of Ireland. From 2015 to 2017 he participated in the Verbier Festival Junior Orchestra in Switzerland.
Killian has performed as soloist with many orchestras including the RTE Concert Orchestra, Kaunas Symphony Orchestra, the Hibernian Orchestra, Dublin Symphony Orchestra, the Tallinn Chamber Orchestra, Estonia and the New York Concerti Sinfonietta at Carnegie Hall. He has attended masterclasses with many renowned musicians such as Daniel Barenboim, Jerome Pernoo, Mauricio Fuks, and Andres Diaz. Killian is performing on an early 20th Century Belgian Cello kindly loaned to him by the Royal Irish Academy of Music.
19 year old violist Séamus Hickey studies viola with Marjolein Dispa and Nobuko Imai at the Conservatorium van Amsterdam and chamber music with the Nederlandse StrijkKwartet Academie. Until 2018, Seamus studied viola with Simon Aspell, violin (Adrian Petcu, Siún Milne), piano (Marian McCarthy, Nicholas O'Halloran) and chamber music (Adrian Petcu, Chris Marwood) at the CIT Cork School of Music. In transition year, he studied at the Conservatoire de Nantes, France with Prof Constantin Serban.
He was placed first in the Aileen Gore Cup at Feis Ceoil, Dublin and was awarded the RTÉ Lyric FM award. He performed in April 2019 in the Feis Ceoil Gala Performance at the National Concert Hall, Dublin. In 2018, he was a finalist in the Irish Freemasons' Young Musician of the Year, where he was awarded the John Vallery Memorial Prize for the best performance by a string player. He was awarded the 2018 Capuchin Order Instrumental Perpetual Trophy and Music Bursary for Advanced Recital in Feis Maitiú, Cork.
Séamus has participated in masterclasses with Tabea Zimmerman, Marc Danel, Hartmut Rohde, Nobuko Imai, Sophia Reuter, Denis Brott, Dmitri Ferschtman, Juan Miguel Hernandez and members of the Artis Quartet, Quatuor Danel, the Con Tempo Quartet and the Vanbrugh Quartet. A dedicated chamber musician, Séamus plays in a variety of ensembles. In 2018 and 2019 he performed at the National String Quartet Foundation's Gathering in the National Concert Hall and also in the masterclass programme at the West Cork International Chamber Music Festival with the Red Abbey Quartet. This year he performed with the Irish Chamber Orchestra Academy in St Mary's Cathedral, Limerick.
As the current violist of the Ophelia Quartet, alongside Phoebe and Killian White and Colma Ní Bhriain, he will participate again in the West Cork Festival in Bantry 2019. In Amsterdam, Seamus performs with the Najbolji Kuartet. He also performs with a contemporary, experimental trio '3Violas', exploring the breadth and sonority of the viola's capabilities, while arranging and improvising music for the viola.
Séamus was the leader of the Cork Youth Orchestra from 2015-17. He also plays traditional Irish music and has toured across Europe performing with various ensembles. He has twice been an All-Ireland finalist on the fiddle and was placed 2nd in the All-Ireland whistling championship.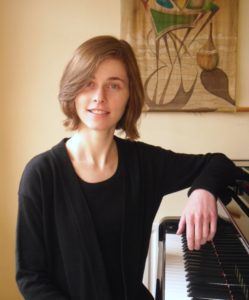 Gráinne Ní Luasa, pianist, is in her final year of the BMus at CIT Cork School of Music. She is currently studying with Mary Beattie, having studied previously with Gabriela Mayer and Jan Čáp.
She has had masterclasses from many renowned pianists including Finghin Collins, Barry Douglas, Philip Martin, Pavel Nersessian, Ewa Pablocka, and Tatiana Zelikman.
From a young age, she has been a regular prize-winner at local and national competitions, and was winner of the CIT Cork School of Music Advanced Recital Competition in 2017. In April 2018 she performed in the RDS as part of the Rising Stars concert series. This April, she will perform in the Rising Stars concert at the University Concert Hall Limerick.
Gráinne is a versatile musician whose repertoire ranges from early to contemporary. She is a keen chamber musician and is currently a member the Alchemus Trio. In June 2018 she performed Schubert in the Aula Maxima, UCC, with members of the Vanbrugh. In September 2017 she performed Stravinsky's Symphony in Three Movements with SinfoNua in the National Concert Hall, under conductor David Brophy.
Gráinne has performed on piano and organ with choirs including Madrigal '75 and Cappella Lyrica, and also studies harpsichord with Pauline McSweeney.

24-year-old cellist Sinéad O'Halloran is quickly establishing herself as one of Ireland's most exciting young musicians. She began her musical studies at the CIT Cork School of Music under the guidance of Joan Scannell and Christopher Marwood. At the age of 18 she was offered an Artistic Merit Scholarship to pursue a postgraduate Performer's Diploma at SMU Meadows School of the Arts in Dallas, Texas in the classes of renowned cellists Andres Diaz and Christopher Adkins. She is currently a student of Gregor Horsch (Principal cellist of Royal Concertgebouw Orchestra) at the Robert  Schumann Hochschule Düsseldorf.
An avid chamber musician, Sinéad has performed at IMS Open Chamber Music (Prussia Cove, UK), the West Cork Chamber Music Festival (Ireland), the Banff Centre (Canada), the opening of the Bozar Season (Brussels) and the 25th Anniversary of the Fall of the Berlin Wall (Germany).
She has been a prizewinner in numerous competitions, both in Ireland and the US. She has collaborated with musicians including Barry Douglas, Tasmin Little, the Vanbrugh String Quartet and Zoltán Fejérvári. Together with violinist Mairéad Hickey, she is co-founder and Artistic Director of the Ortús Chamber Music Festival, bringing together musicians from Ireland and abroad for concerts, education work and audience development in the wider community.
Sinéad is currently Principal Cellist of the European Union Youth Orchestra. She was recently selected by Maestro Ivan Fischer for the Budapest Festival Orchestra Apprenticeship Scheme. She has also performed with the Chamber Orchestra of Europe, Spira Mirabilis, Irish Chamber Orchestra, Georgian Chamber Orchestra and iPalpiti Ensemble of International Laureates. She has performed in some of the world's finest concert halls under the baton of Bernard Haitink, Gianandrea Noseda, Vladimir Ashkenazy, Jörg Widmann and Vasily Petrenko.
Sinéad gratefully acknowledges support from the Arts Council of Ireland, Music Network, the Department of Culture, Heritage and the Gaeltacht and the Cork City Arts Office. www.sineadohalloran.com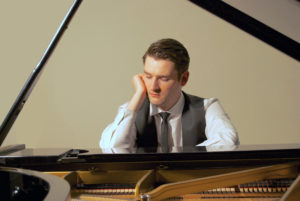 Belfast-born Michael McHale has established himself as one of Ireland's leading pianists and has developed a busy international career as a solo recitalist, concerto soloist and chamber musician.
He has performed as a soloist with the Minnesota, Hallé, Moscow Symphony and Bournemouth Symphony Orchestras, City of London Sinfonia, London Mozart Players and all five of the major Irish orchestras, and performed at the Tanglewood Festival, Suntory Hall and Bunka Kaikan Hall, Tokyo, Wigmore Hall, London, Berlin Konzerthaus, Lincoln Center, New York, Symphony Hall, Boston and Pesti Vigadó in Budapest.
His critically acclaimed début solo album The Irish Piano was released in 2012 by RTÉ lyric fm and selected as 'CD of the Week' by the critic Norman Lebrecht. More recent solo releases include Schubert: Four Impromptus on Ergodos, Miniatures and Modulations on Grand Piano, and a first orchestral album Irish Piano Concertos featuring works by John Field and Philip Hammond with the RTÉ National Symphony Orchestra and conductor Courtney Lewis. His discography of over twenty albums includes releases on Delos, Nimbus Alliance, Champs Hill, Lorelt, Louth CMS and seven duo recital albums on Chandos with Michael Collins. The début album of the McGill/McHale Trio Portraits on Cedille featuring special narrations by Oscar-winner Mahershala Ali was released in August 2017 and immediately entered the Top 25 US Billboard Classical Chart. Upcoming projects include a recording of Strauss's 'Burleske' with the BBC Symphony Orchestra on Chandos, and a recording of two new works by Cliff Eidelman with the London Symphony Orchestra.
Winner of the Terence Judd/Hallé Award in 2009, Michael was also awarded the Brennan and Field Prizes at the 2006 AXA Dublin International Piano Competition, the 2005 Camerata Ireland/Accenture Award, and in 2016 a Major Individual Award from the Arts Council of Northern Ireland. He studied at the Royal Irish Academy of Music, Cambridge University and the Royal Academy of Music, and his teachers and mentors include John O'Conor, Réamonn Keary, Christopher Elton, Ronan O'Hora and Barry Douglas.
Michael collaborates regularly with Sir James Galway, Michael Collins, Patricia Rozario, Dame Felicity Lott and Camerata Pacifica. www.michaelmchale.com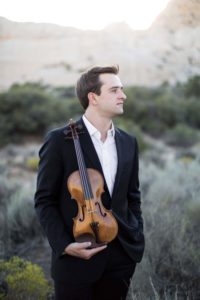 25-year-old violinist William Hagen is the third-prize winner of the 2015 Queen Elisabeth International Music Competition, making him the highest-ranking American since 1985. Already a seasoned international performer, William has been hailed as a "brilliant virtuoso…a standout" (The Dallas Morning News) with "an innate command of line and score, and just the right amount of power" (violinist.com).
His 2017-18 season features debuted with the Frankfurt Radio Orchestra (HR Sinfonieorchester) conducted by Christoph Eschenbach and the Seattle Symphony directed by Pablo Rus Broseta, and return engagements with the Utah Symphony under the direction of Matthias Pintscher and the Fort Worth Symphony Orchestra led by Andrew Gourlay. He performs recitals with pianist Albert Cano Smit in Chicago, Aspen, Darmstadt, and at the University of Florida. In the 2016-17 season, William performed with conductor Nicolas McGegan both at the Aspen Music Festival and with the Pasadena Symphony, made his debut with the Oregon Symphony under Carlos Kalmar, performed with the Brussels Chamber Orchestra in Beijing, and played recitals in Paris, Brussels, Virginia and at the Ravinia Festival. He played chamber music concerts with Steven Isserlis at Wigmore Hall in London, with Tabea Zimmermann at the Beethovenhaus in Bonn, and in New York City with the Jupiter Chamber Players.
William's 2015-16 season included his Tokyo recital debut, his debut at the Colmar Festival in France, and recitals in Los Angeles, Brussels, and several cities in Florida. He returned to the Utah Symphony at Deer Valley Music Festival and to the Aspen Music Festival, both as chamber musician and as soloist with conductor Ludovic Morlot, and appeared with the Sofia Philharmonic in Bulgaria and the Shreveport Symphony, among others. He also played chamber music with Gidon Kremer, Steven Isserlis, and Christian Tetzlaff at the "Chamber Music Connects the World" festival in Kronberg, Germany.Since his debut with the Utah Symphony at age nine, William has performed with conductors such as Marin Alsop, Christian Arming, Placido Domingo, Miguel Harth-Bedoya, Michel Tabachnik and Hugh Wolff, and with the symphony orchestras of Albany, Buffalo, Fort Worth, Jacksonville, St. Louis, Oregon, Utah, and others. Abroad, he has performed with the Brussels Philharmonic, the National Orchestra of Belgium, the ORF Radio-Sinfonieorchester in Vienna, the Orchestre Philharmonique Royal de Liège, and in Japan with the Yokohama Sinfonietta and the Sendai Philharmonic.
A native of Salt Lake City, Utah, William first heard the violin when he was 3 and began taking lessons at age 4 with Natalie Reed, followed by Deborah Moench. At age 10, he began studying with Robert Lipsett at the Colburn School in Los Angeles, where he studied until the age of 17. After studying at the Juilliard School for two years with Itzhak Perlman, William returned to Los Angeles to continue studying with Robert Lipsett at the Colburn Conservatory. He is currently enrolled at the Kronberg Academy in Germany, where he is a student of Christian Tetzlaff. William is an alumnus of the Verbier Academy in Switzerland, the Perlman Music Program, and the Aspen Music Festival, where he spent many summers. William performs on the 1735 "Sennhauser" Guarneri del Gesù, on generous loan from the Stradivari Society of Chicago.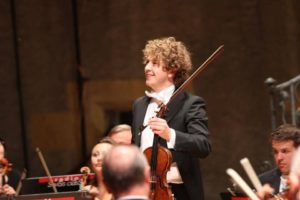 Regarded as one of Ireland's most promising musicians, international award winning violinist Patrick Rafter has toured Europe, Asia and America as Concert Violinist, Chamber and Orchestral musician, and currently studies under Maxim Vengerov and Oleg Kaskiv at the International Menuhin Music Academy Switzerland.
Most recently, Patrick was awarded 1st prize at the Valiant International Violin Competition in Switzerland 2016. In 2011 Patrick was awarded a scholarship to study at the Royal Academy of Music (RAM) London, where he graduated with first class honours and was awarded the highest mark in his year group. At RAM, he was concertmaster of the Symphony, Concert and String Orchestra and was also selected as a member of the RAM's elite string ensemble 'Sainsbury Royal Academy Soloists' with whom he made his Wigmore Hall debut in January 2015. During his time at the RAM, Patrick was a recipient of a host of awards including the Foundation Award, the Sir Curtis Price Award, Roger and Sarah Bancroft Award and the J E Reckitt Award.
Patrick has performed as a soloist with multiple professional orchestras including RTE Symphony Orchestra, Mannheim Chamber Orchestra, Camerata Ireland, Kiev Soloists amongst others and this season will see debuts with London Mozart Players, Prague Philarmonia among others. In October 2015, Patrick was personally invited to study under Maxim Vengerov at the International Menuhin Music Academy (IMMA), Gstaad Switzerland and has performed as soloist and concertmaster with IMMA's elite chamber ensemble.
During his career, Patrick has studied with and performed alongside some of the greatest performers and teachers in the world today, including Maxim Vengerov, Schlomo Mintz, Barry Douglas, John O'Conor, Igor Ozim, Serjei Krylov, Reiner Honeck, Maurizio Fucs and Graf Mourja. He has also worked with some of the leading composers of the world today, such as Arvo Part, and performed with some of the greatest conductors including Semyon Bychkov, Marin Alsop, Sir Mark Elder and Gianedra Noseda.
As a conductor himself, Patrick has directed the RTE Concert Orchestra in the finals of the RDS Feis Ceoil Conducting Competition and has taken choral masterclasses with distinguished names such as Zoltan Pad, Maxim Vengerov and Volker Hempfling. Patrick is incredibly grateful to play on a Georges Chanot violin kindly supported by the Department of Culture, Heritage and the Gaeltacht.
"belonging amongst the greatest violinists, except for names such as Maxim Vengerov, Itzhak Perlman and Nigel Kennedy, I cannot think of those with whom I can compare you! .. This is passionate abandoned playing, full of excitement, risks and drama… a dangerously virtuosic ability which seems to feed off itself."
– Alexander Bailie, RDS Music Festival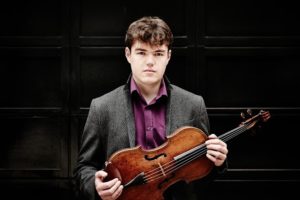 Since winning 1st Prize in the Lionel Tertis International Viola Competition in 2016, Timothy Ridout has gone on to perform widely in Europe.
Engagements this season include appearances as soloist with the Deutsche Staatsphilharmonie Rheinland-Pfalz, Philharmonia Orchestra, London Mozart Players, Sinfonia Cymru and Young Musicians European Orchestra (in Israel). He returns to Wigmore Hall, makes his debut in Tokyo (Musashino Hall), performs George Benjamin's Viola, Viola at the Southbank Centre on the invitation of Tabea Zimmermann, and gives recitals at Saffron Hall, the Newbury and Kilkenny Festivals. In 2017 Champs Hill released his first CD of music by Vieuxtemps to critical acclaim.
Sought after as a chamber musician during 2018 Timothy takes part in the Heimbach (Germany), Valdres Sommersymfoni (Norway), Boswil and Musikdorf Ernen Festivals (Switzerland); and undertakes projects at the Musikverein (Vienna), Louvre and Salle Cortot in Paris. He collaborates with Sir Andras Schiff, Steven Isserlis, Lawrence Power, Nobuko Imai, Frank Dupree, Frans Helmerson, Christian Tetzlaff, Isabelle Faust, Pavel Kolesnikov and Gabor Takács-Nagy.
Future engagements include his debut at the Konzerthaus Berlin, a residency with Baden-Baden Philharmonie and a performance of the Walton Concerto with the Tonhalle Orchester Zurich.
Born in London in 1995, Timothy studied at the Royal Academy of Music with Martin Outram, graduating with the Queen's Award for Excellence. He was selected by Young Classical Artists Trust (YCAT) in 2016 and in the same year joined the Kronberg Academy in Germany, where he currently studies with Nobuko Imai. Awards include 1st Prize at the 2014 Cecil Aronowitz and 2nd Prize at the 2015 Windsor Festival International Competitions.
Over the last two years Timothy has performed across Europe including the Verbier Academy & Festival and Schloss Elmau, the Munich Gasteig, the Bad Kissinger Sommer, Schubertiade (Austria) and Beethoven Bonn Festivals. He has attended IMS Prussia Cove Open Chamber Music and performed with the Nash Ensemble. Solo appearances include the Rotterdam Philharmonic Strings, European Union Chamber, Zagreb Soloists and Oxford Symphony Orchestras and a special performance of Mozart's Sinfonia Concertante with Maxim Vengerov. He has participated in masterclasses with Christoph Eschenbach, Sir Simon Rattle and Gidon Kremer, among many others.
Timothy is very grateful for support from the Amaryllis Fleming Foundation and Bowerman Charitable Trust. Timothy plays on a Viola by Peregerino di Zanetto c1565-75 generously on a temporary loan from Beares International Violin Society.
This disc contains some of the best music written for the viola in the 19th Century….Timothy Ridout…is a fine, young violist with a solid tone, perfect intonation, solid technique, and charisma. I look forward to hearing more from him.
– American Record Guide 2018 / Vieuxtemps CD (CHamps HIll Records)
A gorgeous tone, a thoughtful approach to phrasing and an infectious sense of impetuosity.
– The Gramophone / Vieuxtemps CD (Champs Hill Records) / May 2017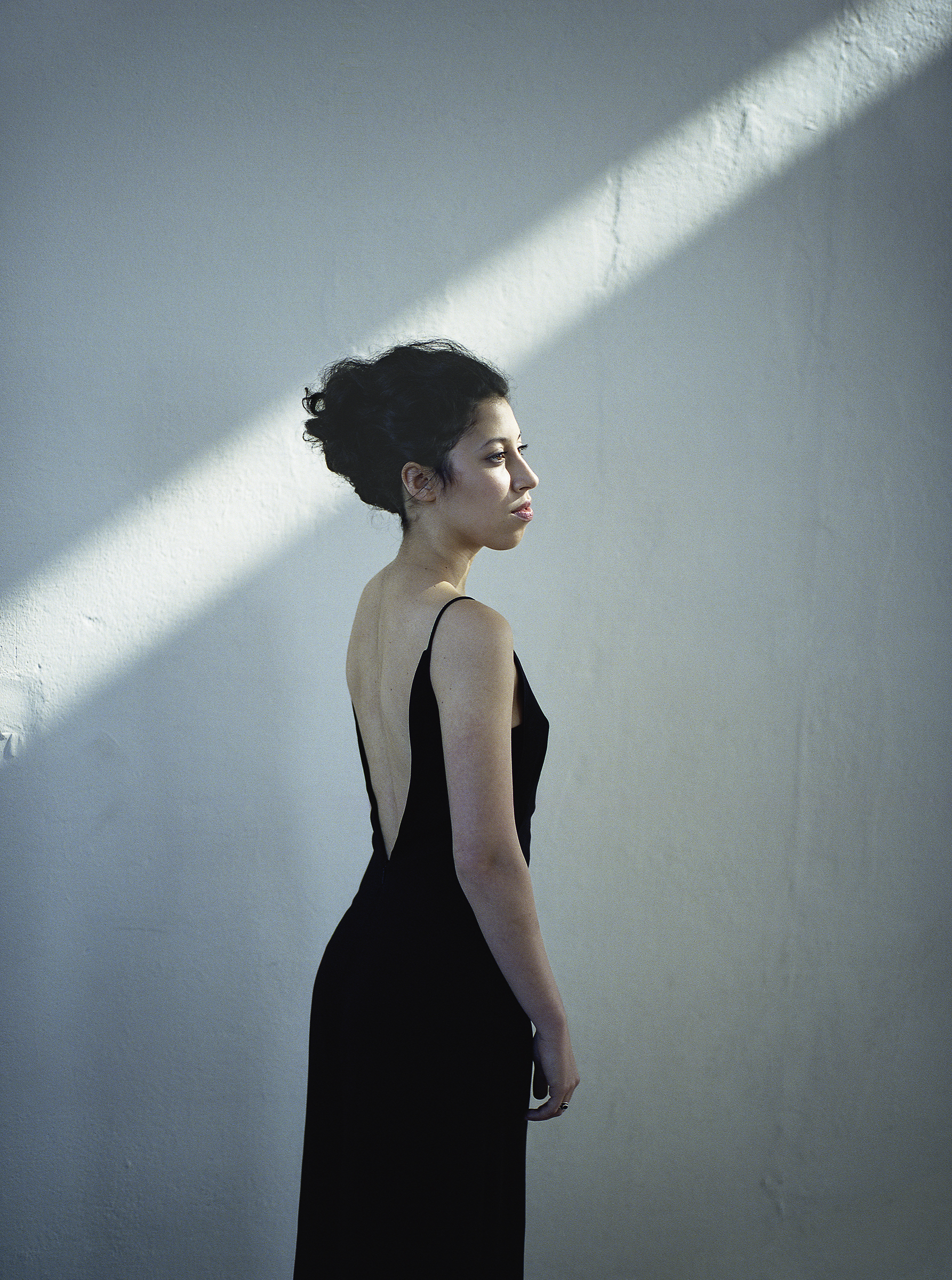 Ella van Poucke, born in Amsterdam in 1994, winner of the prestigious Premio Chigiana 2017, the 23 year old Dutch cellist belongs to the top rank of today's generation of cellists. She is the first prize winner of the International Isang Yun cello competition 2015, the Leopoldinum Award 2015, Prix Nicolas Firmenich 2013, Elisabeth Everts Award 2014, Prix Academie Maurice Ravel 2012, Dutch Musician of the Year 2012 and first prize winner of the 2008 Princess Christina Competition. After making her debut at the Concertgebouw at the age of 10 she has been performing in all the major halls of the Netherlands, in many top halls in Europe and in the U.S and Asia.
As a soloist Ella has performed with the Netherlands Philharmonic Orchestra, HRSinfonie Orchester, Brussels Philharmonic, Rotterdam Philharmonic Strings, Varsovia Chamber Orchestra, Polish Chamber Orchestra, Dutch National Youth Orchestra, Maggio Musicale Fiorentino, Orchestre della Toscane, Württembergisches Kammerorchester Heilbronn, Junge Sinfonie Berlin, Hamburger Camerata, Tongyeong Festival Orchestra and collaborated with artists as Michael Sanderling and Christoph Eschenbach among others. In November 2012 she premiered a new concerto, which was written for her by the Finnish composer Uljas Pulkkis during the Cello Biennale Amsterdam. In September 2013 she premiered the same work in Germany at the Kronberg Festival.
As a passionate chamber musician Ella has performed with Andras Schiff, Nobuko Imai, Tabea Zimmermann, Christian Tetzlaff, Viviane Hagner, Lawrence Power, Gidon Kremer, Colin Carr, Vilde Frang, Philippe Graffin, Prazak quartet, Schumann quartett among many others. She regularly performs in recital with pianist Jean-Claude vanden Eynden and with her brother Nicolas van Poucke. She has been guest in numerous international festivals such as Festspiele Mecklenburg Vorpommern, West Cork Chamber Music Festival, Music@Menlo, Krzyzowa Music, Chigiana International Festival, Kaposfest Hungary, Internationaal Kamermuziek Festival Utrecht, Kronberg Festival, Cello Biennale Amsterdam and was invited to participate in Verbier Festival Academy in 2009, 2013 and 2014. As a Dutch 'Rising Star' Ella was invited to give two Carte Blanche concerts in the Concertgebouw in Amsterdam in 2013-14. Ella is the artistic director of the Chamber Music Festival Amsterdam which she and her brother, pianist Nicolas founded in 2010. Born into a family of musicians, Ella began playing the cello at the age of six. Entered the Royal Conservatory of The Hague at the age of 10 and later continued her studies in Amsterdam with Godfried Hoogeveen.
She has had masterclasses with Daniel Barenboim, Miklos Perenyi, Yuri Bashmet, Steven Isserlis, Menahem Pressler, Laurence Lesser, Anner Bijlsma, Bernard Greenhouse, Mischa Maisky, the Emerson Quartet among others. From 2009-2016 Ella studied with Frans Helmerson at the Kronberg Academy Masters in Germany. Currently Ella is Artist in Residence at the Queen Elisabeth Music Chapel in Brussels, where she studies with Gary Hoffman. She plays on a Rombouts cello, kindly lend to her by a anonymous benefactor.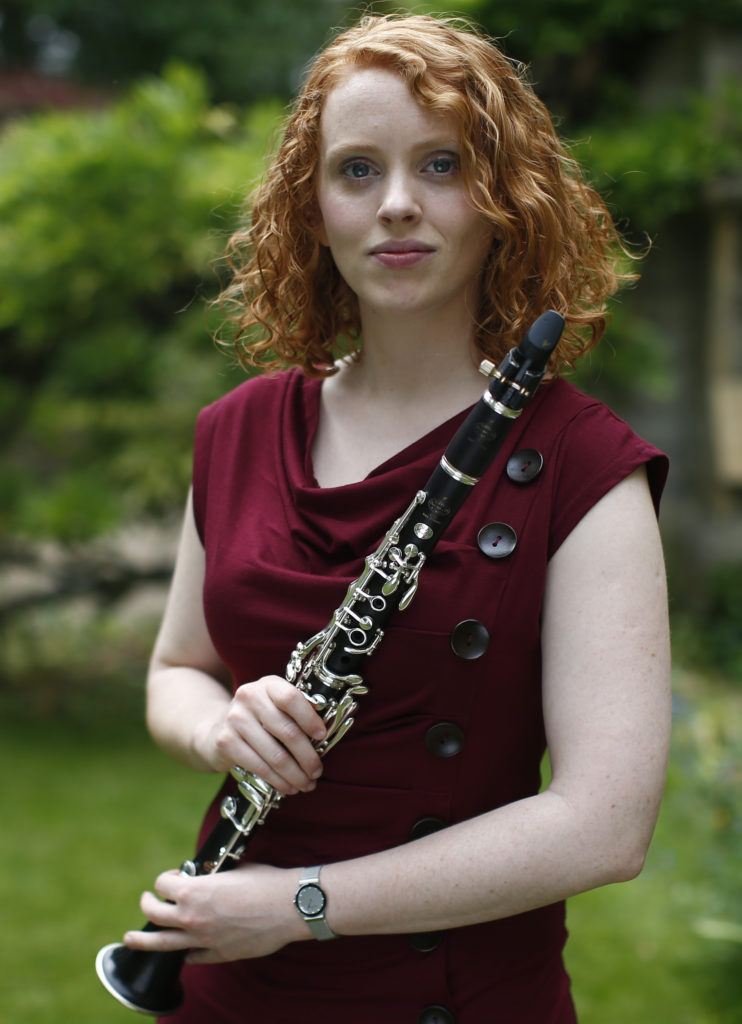 London based Irish clarinettist Jessie Grimes balances a busy schedule performing as a soloist, chamber musician and orchestral player, as well as a teacher, presenter and workshop leader.
She has performed as a soloist at the Purcell Room, St John's Smith Square, St Martin-in-the-Fields, NCH Dublin and at the Brighton Festival. Jessie is a founding member of the Jacquin Trio, with whom she has won many awards and competitions including the Royal Overseas League Competition and St Martin-in-the-Fields Chamber Music Competition, the Salzburg Grand Prize Virtuoso International Competition, and the 19th International Chamber Music Competition, Thessaloniki. A lover of chamber music, she also enjoys a musical relationship with the Dr K Sextet, Ensemble Perpetuo, The Riot Ensemble and Ossian Ensemble.
As an orchestral musician, Jessie been principal clarinet of the Wexford Festival Opera Orchestra for the past three seasons and also enjoys working with orchestras such as the BBC and RTE Orchestras, ROH Covent Garden and Camerata Ireland. As a student she enjoyed many tours with the European Union Youth Orchestra as principal bass clarinettist.
Jessie is passionate about sharing her love for music. She teaches clarinet at the Royal College of Music (RCM) Junior Department, and has given woodwind masterclasses for the Camerata Ireland Academy at the Clandeboye Festival. She has presented live on BBC television, is a Live Music Now mentor for young ensembles, and delivers workshops for Create Arts, Wigmore Learning, Camerata Ireland, Spitalfields and RPO Resound. She also works closely with with the Ulster Orchestra, presenting concerts and workshops, and developing their Learning and Participation programme.
Jessie graduated with an MMus from the RCM in 2011 and was awarded the Worshipful Company of Musicians Silver Medal for Outstanding Musical Achievement as well as RCM Rising Star and RCM Senior Woodwind Prizes. When not working, she loves hiking, rock climbing, yoga and stand-up comedy.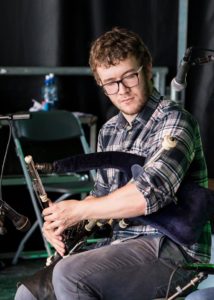 Uilleann piper Fergal Breen from County Clare has been playing classical and traditional music from the age of 8. He is a multi-instrumentalist, playing uilleann pipes, classical and traditional piano, organ, traditional flute, tin whistle and low whistle. He has won many accolades, including three All-Ireland solo titles on the uilleann pipes. In 2014 he won the All-Ireland under 18 concert flute and tin whistle titles, as well as coming second in the under 18 uilleann pipes competition.
He has also been a member of The Burren Group and Burren Ceílí band since the age of 9, winning several All-Ireland titles with these groups. He has been part of the Seisiún group at Cois na hAbhna for the past four seasons.
In 2010 and 2012 he won awards at the Meitheal Summer School for musicianship, which included a visiting music teaching position at the Cavan Traditional Music Weekend in 2012. He was a member of the band 'Dílse', who performed on two occasions at The National Concert Hall in Dublin at the finals of Siansa Gael Linn.
He has performed as uilleann piper and low whistle player for The Clare Memory Orchestra. He has completed a diploma on piano with the London College of Music and he plays the organ at the Cathedral in Ennis.
A student of Biomedical Science at the National University of Ireland, Galway, he continues to perform regularly, both locally and nationally, including several radio presentations. He also teaches Irish traditional music with Comhaltas Ceoilteóirí Éireann in Galway.