Mairéad Hickey – Violin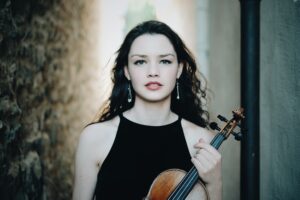 Celebrated Irish violinist Mairéad Hickey is acclaimed for her captivating expression, soaring tone and fearless virtuosity. Her natural ability to communicate sincerely, with beauty and integrity, entrances audiences worldwide.
As a soloist Mairéad has performed with the Irish National Symphony and Concert Orchestras, Hessicher Rundfunk Sinfonie-Orchester, Württembergisches Kammerorchester, Philharmonisches Staatsorchester Mainz, Kremerata Baltica, Chamber Orchestra of Europe and Camerata Ireland and with conductors such as Christoph Eschenbach in some of the major halls around the world. Her Carnegie Hall debut was described as "…magical, penetrating to the heart and soul of the music." (New York Epoch Times). Mairéad is the concertmaster of the Orchestre National des Pays de la Loire.
A passionate chamber musician, Mairéad has performed with Sir András Schiff, Barry Douglas, Tabea Zimmermann, Renaud Capucon, Mate Bekavac, Irena Grafenauer, Alexander Lonquich, Steven Isserlis, Christian Tetzlaff, Boris Berezovsky, Kirill Gernstein, Paul Neubauer, Andrés Díaz, Pieter Wispelway, Michel Lethiec, Marc Coppey, Dmitry Sitkovetsky and the Vanbrugh Quartet among many others.
Mairéad has been invited to perform at the West Cork Chamber Music Festival, Westport Festival of Chamber Music, the Clandeboye Music Festival, the Rheingau Festival, Mantova Chamber Music Festival, Grachtenfestival Amsterdam, Rolandseck Festival and Chamber Music Connects the World.
Her love of chamber music led her to co-found the Ortús Chamber Music Festival in 2016 in her native Cork, of which she is Artistic Director.
Mairéad was Irish NCH Young Musician of the Year 2010 – 2012. As well as winning prizes at renowned Irish competitions, she won third prize as well as a Special Prize for the best interpretation of a virtuoso work at the 2016 International Louis Spohr Competition and first prize in the Jeunesses Musicales Violin Competition, Romania 2012. In 2017 she was awarded a Special Prize in the Berliner International Music Competition and the Manhattan International Music Competition.
Born in 1996, Mairéad began playing the violin at the age of three with Jyrki Pietila. From 2003 to 2014 she studied with Adrian Petcu at the Cork School of Music and spent a year studying with Constantin Serban in Nantes. In 2020 she graduated from Kronberg Academy where she studied with Mihaela Martin, sponsored by the Hilmar Kopper Stipendium.
Mairéad has taken masterclasses and worked intensely with artists such as András Schiff, Rita Wagner, Ferenc Rados, Gidon Kremer, Dora Schwarzberg, Elena Bashkirova, Hugh Maguire, Vadim Repin, Mariana Sirbu, Ana Chumachenco, Vadim Gluzman, Steven Isserlis, Yossi Zivoni, Mauricio Fuks, Gabor Takács-Nagy, Christoph Eschenbach, Marc Danel and Ivry Gitlis among others.
Mairéad also plays traditional Irish music and has won eight world Irish fiddle titles.
Mairéad currently plays a 1702 Giovanni Tononi violin.
Fiachra Garvey – Piano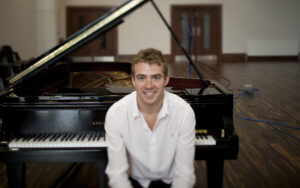 1st prizewinner at the 2012 Jaques Samuel Competition, London, Fiachra Garvey, ARAM, has performed in venues from the Fazioli Auditorium in Italy to London's Wigmore Hall. He has also been a prizewinner at AXA Dublin International Piano Competition (Brennan Prize and McCullough Bursary), EU Piano Competition Prague (concerto finalist), and 3rd Soirees-Concours Internationales de Piano a Collioure, France (Audience award). The National Concert Hall Dublin awarded Fiachra the "Rising Star" prize in 2011, which subsequently led to a series of concerto and solo debuts.
Concerto appearances include Rachmaninoff's Rhapsody on a theme of Paganini with the Janáček Philharmonic, Tchaikovsky and Poulenc with the RTE National Symphony Orchestra and Cambridge SO, Gershwin's Rhapsody in Blue and Grieg with the RTE Concert Orchestra, Prokofiev no 3 with the RIAM and Grieg with the Hibernian Orchestra working with eminent conductors including John Wilson, Duncan Ward, Theodore Kuchar, Stephen Bell and Mihhail Gerts.
Recent highlights include the first classical recital at Google Dublin, a series of solo and two piano recitals in Japan, a tour of China including giving masterclasses at the Beijing Conservatory of Music, as well as appearances at Spoleto Festival Italy, Wexford Opera, Brighton Festival, West Cork Chamber Music Festival, Bridgewater Hall Manchester and The Geneva Festival, Switzerland.
Fiachra's debut CD "For the Piano", under the Lyric FM label "brings a deep and infectious enthusiasm, combined with insight and technical comfort." (Sunday times). His second CD is a live performance from Wigmore Hall.
Fiachra is the Founder and Artistic Director of the West Wicklow Festival, Co-Founder and Artistic Director of Classical Vauxhall and sits on the board of the Dublin International Piano Competition. He is hugely grateful for the support he has received from the Arts Council (Professional Development Award 2020) and the Wicklow Arts Office (Artist Award Scheme 2020).
When not performing, Fiachra loves nothing more than returning home to help on the family farm with the yearly lambing, dipping, shearing, harvesting and all the other elegant and refined activities on the farm! Fiachra feels this makes him a more inspired and fulfilled musician.
Siún Milne – Violin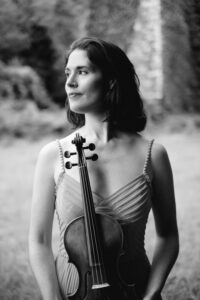 Siún Milne studied the violin with Ruxandra Colan-Petcu at CIT Cork School of Music before completing her BMus degree on scholarship at the Royal Academy of Music in London with Maurice Hasson and Mateja Marinkovic.
Siún is a keen chamber musician and has performed with a variety of ensembles throughout her career including the Royal Academy of Music Baroque Soloists at Wigmore Hall, The Vanbrugh and Callino String Quartet, European Union Chamber Orchestra and Arensky Chamber Orchestra. She recently performed Stravinsky's Soldier's Tale with Scottish Chamber Orchestra.
Siun has participated in masterclasses with Gerhard Schulz at IMS Prussia Cove, Sarah Chang, Thomas Brandis, Pavlo Beznosiuk, Sylvia Rosenberg, Eric Höbarth and Rachel Podger.
As a part of Ólafur Arnald's string quartet, Siún performed at the Montreux Jazz Festival, Cross-Linx Festival, Volksbühne Berlin and has toured the UK with Arnald's soundtrack for "Broadchurch". She has performed with a diverse range of artists including Mícheál O' Suilleabháin, Frankie Gavin, singer-songwriter Rumer on BBC's Later with Jools Holland, Loah at the National Concert Hall and Efterklang.
She is a member of the Scottish Chamber Orchestra and also plays regularly with the Irish Chamber Orchestra and has performed with renowned soloists such as Tabea Zimmerman, Igor Levit, Elizabeth Leonskaja and Jörg Widmann at Zürich Tonhalle, Heidelberg Frühlingsfest, Wiener Konzerthaus, Würzburg Mozart Fest, Storioni Festival Eindhoven, Rheingau Festival, Lincoln Centre New York and Konzerthaus Berlin.
Fumika Mohri – Violin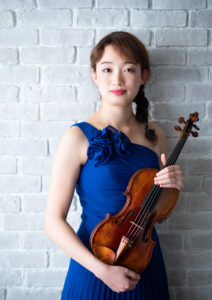 In 2012, Fumika Mohri won the first prize in the Seoul International Music Competition becoming the youngest ever and very first Japanese first-prize winner in the history of the competition. In 2015 she won the second prize in the Premio Paganini International Violin Competition and the sixth prize in the Queen Elisabeth International Music Competition. In 2019 she won the third prize in the Montreal International Music Competition.
As a soloist, Fumika Mohri has performed with major orchestras such as Tokyo Symphony Orchestra, Korean Symphony Orchestra, Orchestre National de Belgique, Brussels Philharmonic, Orchestre symphonique de Montréal, Kremerata Baltica and Chamber Orchestra of Europe. She has appeared in numerous music festivals and concert series such as the Takefu International Music Festival (Japan), the Cervo Festival (Italy) and the Kronberg Academy Festival (Germany), and has collaborated with eminent artists including Sir András Schiff, Abdel Rahman El Bacha, Ilya Gringolts, Nobuko Imai, Tabea Zimmermann, Frans Helmerson and Tsuyoshi Tsutsumi. She gave her debut recital at Kioi Hall, Tokyo in 2016.
Fumika Mohri was born in Japan in 1994 and began playing the violin at the age of three. She has studied with Kaori Tajiri, Sachika Mizuno, and Koichiro Harada. In 2014 she completed the Soloist Diploma Course of the Toho Gakuen School of Music. Since 2015 she has been studying at the Kronberg Academy with Mihaela Martin.
Sara Ferrández – Viola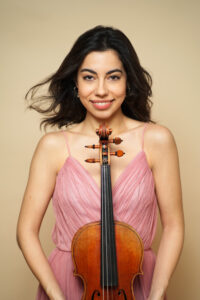 Sara Ferrández began directly with the viola at the age of three. Given her maturity as an interpreter, she started to perform on stage from the age of seven. Born in Madrid in 1995 she entered the Escuela Superior de Música Reina Sofia at a very young age. After completing her studies in Madrid she won the Juventudes Musicales scholarship to study abroad as well as the Humboldt Wardwell Stipendium and she moved to Berlin to study with the prestigious soloist Tabea Zimmermann in the Hochschule für Musik Hanns Eisler where she did both her Bachelor and Master degree.
Devotee of Chamber Music, Sara is frequently invited to play in prestigious festivals, such as the Kronberg Academy, Verbier Festival, Musika-Música, Classische forme by pianist Beatricce Rana, Arezzo Festival, Bodrum Music Festival, Zagreb Chamber Music Festival or Rolandseck Festival. Sara has also been invited by violinist Anne-Sophie Mutter to be part of her Ensemble MutterVirtuosi.
Despite her youth Sara has already performed in some of the major concert halls including the National Concert Hall of Spain, L'Auditori Barcelona where she presented the 20/21 season as a soloist, the emblematic Berlin Philharmonie, Elbphilharmonie in Hamburg,Victoria Hall in Switzerland or Salzburg Festpielhaus.
Highlights for the upcoming season include her debut with the Radio Television Orchestra in the Monumental Theatre of Madrid, her debut with the Orchestra de Córdoba and 15 Chamber Music Concerts in the most prestigious halls of Europe being part of the Echo Rising Stars of this season with Cristina Gómez Godoy, Oboe, and Mario Häring, Piano. Sara is a member of the Karajan Academy of the Berlin Philharmonic since December of 2019, as well as a member of the West Eastern Divan Orchestra under the direction of Maestro Daniel Barenboim, and from September of 2021 a student of the Kronberg Academy. She plays on a Nicolas Léonard Tourte bow loaned by Stephan Jansen.
Sindy Mohamed – Viola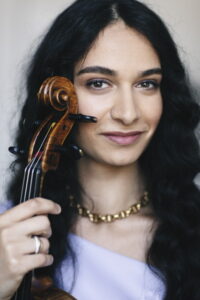 The French-Egyptian violist Sindy Mohamed is one of the most promising young musicians of her generation. A prize-winner of the 2017 Anton Rubinstein International Competition and a scholarship recipient of the Ottilie Selbach Redslob Foundation, she performed as a soloist in England with the Royal Northern Sinfonia under Lars Vogt as part of the New Year New Artists Festival.
Rolando Villazón invited her to appear in the ARTE broadcast "Stars of Tomorrow". As a soloist and chamber musician, Sindy Mohamed is a regular guest at major festivals such as the Moritzburg Festival, the Schubertiade Hohenems, the Kronberg Festival, the Festival d'Aix-en-Provence, and the Folles Journées de Nantes. Her chamber music partners include artists such as Renaud Capuçon, Isabelle Faust, Lawrence Power, Jan Vogler. In recent seasons, Sindy has performed regularly with harpist Anaïs Gaudemard, flutist Joséphine Olech and violinist Michael Barenboim.
Highlights of the 2021/22 season include her debuts with the Heidelberger Sinfoniker under the baton of Johannes Klumpp and the Cairo Symphony Orchestra under the baton of Ahmed El Saedi. Further concerts will take her to the Mannheimer Schlosskonzerte with Pēteris Vasks Viola Concerto and to the Berlioz Festival with the Orchestre des Pays de la Loire, where she will play Berlioz' "Harold en Italie". Sindy will also make her debut at the Mecklenburg Vorpommern Festival and perform a solo recital at the Heidelberger Frühling International Music Festival.
Sindy plays on a viola by Matteo Goffriller, Venice circa 1700, generously loaned by the Beare's International Violin Society, in London.
Brannon Cho – Cello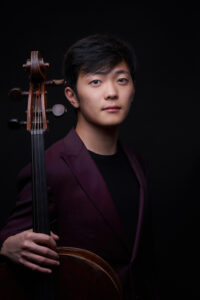 Praised for his "burnished tone, spellbinding technique, and probing musical mind" (Boston Classical Review), cellist Brannon Cho has emerged as an outstanding artist of his generation. He is the First Prize winner of the prestigious 6th international Paulo Cello Competition, and is also a prize winner of the Queen Elisabeth, Naumburg, and Cassadó International Cello Competitions.
Most recently, Brannon Cho is the recipient of the 2020 Janos Starker Foundation Award, the Landgraf von Hessen Prize from Kronberg Academy, the 2019 Ivan Galamian Award previously held by James Ehnes, and is a scholarship holder in the Anne-Sophie Mutter Foundation.
Brannon Cho has appeared as a soloist with many of the top orchestras around the world, including the Helsinki Philharmonic Orchestra, Minnesota Orchestra, Tokyo Philharmonic Orchestra, Brussels Philharmonic, and Orchestre Philharmonique Royale Liège, under world-renowned conductors such as Susanna Mälkki, Stéphane Denève, Christian Arming, and Hugh Wolff.
As a lover of chamber music, Brannon Cho has shared the stage with artists such as Anne-Sophie Mutter, Christian Tetzlaff, Gidon Kremer, and Joshua Bell. His recent festival appearances include Rheingau, Marlboro, Kronberg Academy, Music@Menlo, and Prussia Cove.
Brannon Cho's recent and upcoming solo performance highlights include debut recitals in Wigmore Hall, Weill Recital Hall at Carnegie Hall, the Cello Biënnale Amsterdam, Kumho Art Hall in Seoul, Rheingau Musik Festival with the Chamber Orchestra of Europe, Konzerthaus Berlin, Seoul Arts Center, and the Isabella Stewart Gardner Museum.
Born in New Jersey, Brannon Cho received his Bachelor's degree from Northwestern University's Bienen School of Music under Hans Jørgen Jensen. He was awarded the prestigious Artist Diploma from the New England Conservatory, where he studied with Laurence Lesser. Today, he is in the Professional Studies program at the Kronberg Academy, under the tutelage of Frans Helmerson. Brannon Cho is sponsored by Thomastik-Infeld, and performs on a rare cello made by Antonio Casini in 1668 in Modena, Italy.
Alexander Kovalev – Cello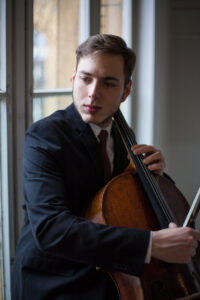 Principal cellist of the Staatskapelle Berlin, Alexander Kovalev is also an avid chamber musician. Throughout his career Alexander played in some of the most prestigious festivals such as Eurogio Festival, Mecklenburg Vorpommern Festival, Yellow Barn, Krzyzowa-Music, Verbier Festival Academy where he received the Neva Foundation Prize and he collaborated with renowned musicians including Martha Argerich, Daniel Barenboim, Patricia Kopatchinskaja, Fazil Say, Mihaela Martin, Nils Moenkemeyer, Elena Bashkirova.
Through invitation of Maestro Barenboim, Alexander has also become a member of the distinguished Boulez Ensemble and he had the opportunity to work with numerous artists such as Lahav Shani, Mathias Pintscher, Jorg Widmann, Pablo Heras-Casado.
Alexander was born into a family of musicians in Moscow, Russia, in 1992. He began his musical studies at the esteemed Central Music School in Moscow. Following his graduation at Robert Schumann Hochschule Düsseldorf and Hochschule für Musik "Hanns Eisler" Berlin he's currently receiving his Master's Degree at UDK Berlin with Professor Jens Peter Maintz
Sinéad O'Halloran – Co-Artistic Director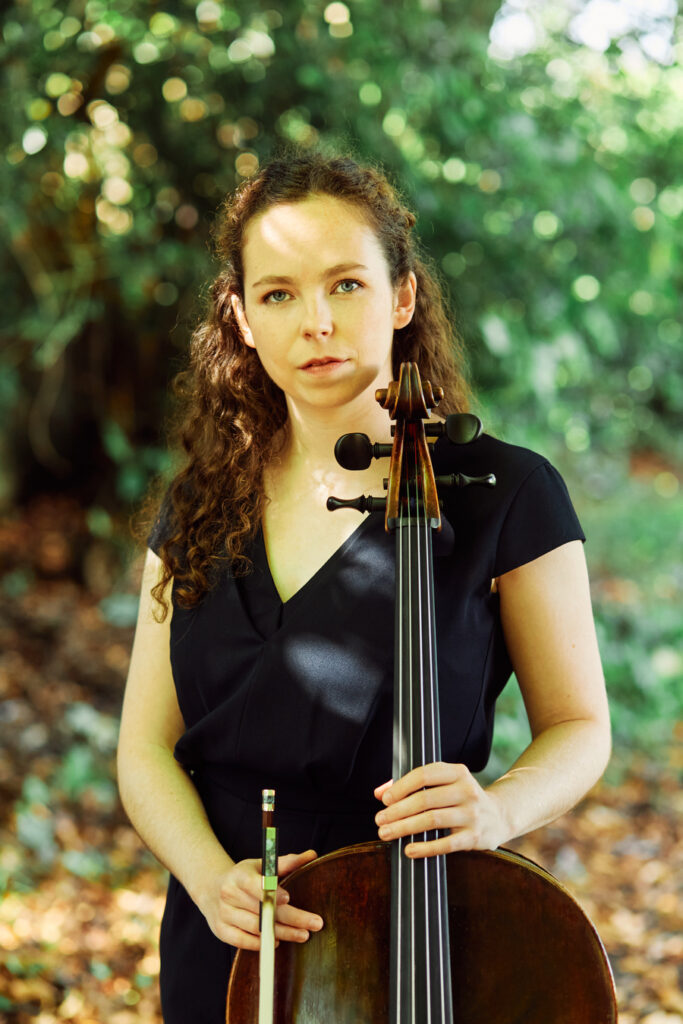 Co-Artistic Director Sinéad O'Halloran is quickly establishing herself as one of Ireland's most exciting young musicians. Sinéad is passionate about bringing together Irish and international musicians for concerts, education work and audience development in the wider community. An avid chamber musician, Sinéad is a member of the internationally recognized Marmen Quartet. Season highlights include performances at the BBC Proms, Berlin Philharmonie and Pierre Boulez Saal, as well as extensive tours including performances in Heidelberg, Dallas, Luberon, Lisbon, Bordeaux, Stockholm and Graz.
She has collaborated with musicians including Tasmin Little, Anthony Marwood, Timothy Ridout, Mishka Rushdie Momen and the Doric and Vanbrugh Quartets. In October 2020 she made her Wigmore Hall debut at the invitation of Steven Isserlis as part of the IMS Prussia Cove Autumn Tour. As Principal Cellist of the European Union Youth Orchestra she led the section at numerous high profile events, including the BBC Proms and The Armistice Day 100 Years Anniversary Ceremony, performing at the foot of the Arc de Triomphe during a ceremony marking the centenary of the end of World War I in front of 84 Heads of State and world leaders, and a live television audience of millions. At the invitation of Maestro Iván Fischer, she is a regular guest with the Budapest Festival Orchestra, touring extensively and performing in some of the world's finest concert halls, including Carnegie Hall, Philharmonie de Paris, Elbphilharmonie Hamburg and Het Concertgebouw. She has also performed with the Chamber Orchestra of Europe, Irish Chamber Orchestra and Spira Mirabilis. A graduate of Southern Methodist University (Dallas, Texas), Sinéad also graduated with a First Class Hons BMus from the Robert Schumann Hochschule Düsseldorf. She is currently completing her Masters between Düsseldorf and the Royal Northern College of Music (Manchester), where she was awarded the prestigious Gold Medal 2021. Sinéad gratefully acknowledges support from the Arts Council of Ireland, Music Network, the Department of Culture, Heritage and the Gaeltacht, the Cork City Arts Office and DAAD.