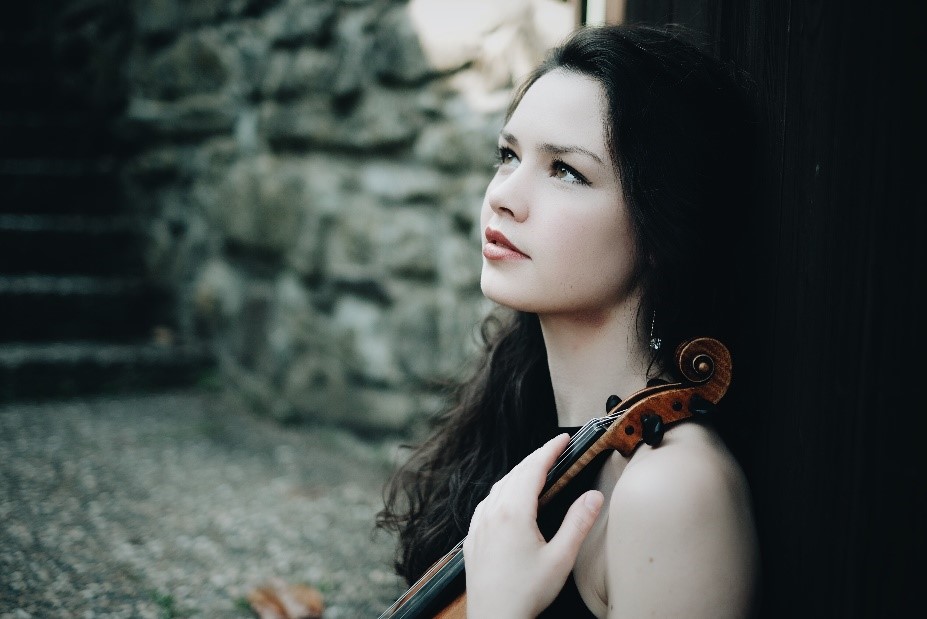 Celebrated Irish violinist Mairéad Hickey is acclaimed for her captivating expression, soaring tone and fearless virtuosity. Her natural ability to communicate sincerely, with beauty and integrity, entrances audiences worldwide.
As a soloist Mairéad has performed with the RTÉ Irish National Symphony Orchestra, RTÉ Irish National Concert Orchestra, Württembergisches Kammerorchester, Philharmonisches Staatsorchester Mainz, Kremerata Baltica and Camerata Ireland and many others in some of the major halls around the world. Her Carnegie Hall debut was described as '…magical, penetrating to the heart and soul of the music.' (New York Epoch Times)
A passionate chamber musician, Mairéad has performed with Sir András Schiff, Barry Douglas, Tabea Zimmermann, Fazil Say, Marc Coppey, Mate Bekavac, Irena Grafenauer, Alexander Lonquich, Andreas Reiner, Paul Neubauer, Andrés Díaz, Pieter Wispelway, Michel Lethiec, Dmitry Sitkovetsky, Boris Berezovsky and the Vanbrugh Quartet among many others.
Mairéad has been invited to perform at the West Cork Chamber Music Festival, Westport Festival of Chamber Music, the Clandeboye Music Festival, Mantova Chamber Music Festival, Grachtenfestival Amsterdam, Rolandseck Festival and Chamber Music Connects the World Kronberg 2016 where she performed with Steven Isserlis and Christian Tetzlaff.
Her love of chamber music led her to co-found the Ortús Chamber Music Festival in 2016 in her native Cork, of which she is Artistic Director.
Mairéad was Irish NCH Young Musician of the Year 2010 – 2012. As well as winning prizes at renowned Irish competitions, she won third prize as well as a Special Prize for the best interpretation of a virtuoso work at the 2016 International Louis Spohr Competition and first prize in the Jeunesses Musicales Violin Competition, Romania 2012. In 2017 she was awarded a Special Prize in the Berliner International Music Competition and the Manhattan International Music Competition.
Born in 1996, Mairéad began playing the violin at the age of three with Jyrki Pietila. From 2003 to 2014 she studied with Adrian Petcu at the CIT Cork School of Music, Ireland and spent a year in France studying at the Conservatoire de Nantes with Constantin Serban. She is now studying with Mihaela Martin at Kronberg Academy, sponsored by the Hilmar Kopper Stipendium.
Mairéad has taken masterclasses and worked intensely with artists such as András Schiff, Rita Wagner, Ferenc Rados, Gidon Kremer, Dora Schwarzberg, Elena Bashkirova, Hugh Maguire, Vadim Repin, Mariana Sirbu, Ana Chumachenco, Vadim Gluzman, Steven Isserlis, Yossi Zivoni, Mauricio Fuks, Gabor Takács-Nagy, Christoph Eschenbach, Marc Danel and Ivry Gitlis among others.
Highlights of her upcoming season include a performance in Wigmore Hall, London with Sir András Schiff and in Frankfurt with the HR-Sinfonie Orchester and Christoph Eschenbach.
Mairéad also plays traditional Irish music and has won eight world Irish fiddle titles. She has an instructional app 'Irish Fiddler' which is available on iTunes.
Mairéad currently plays a Giovanni Tononi violin, kindly loaned to her through the Beares International Violin Society.
maireadhickey.com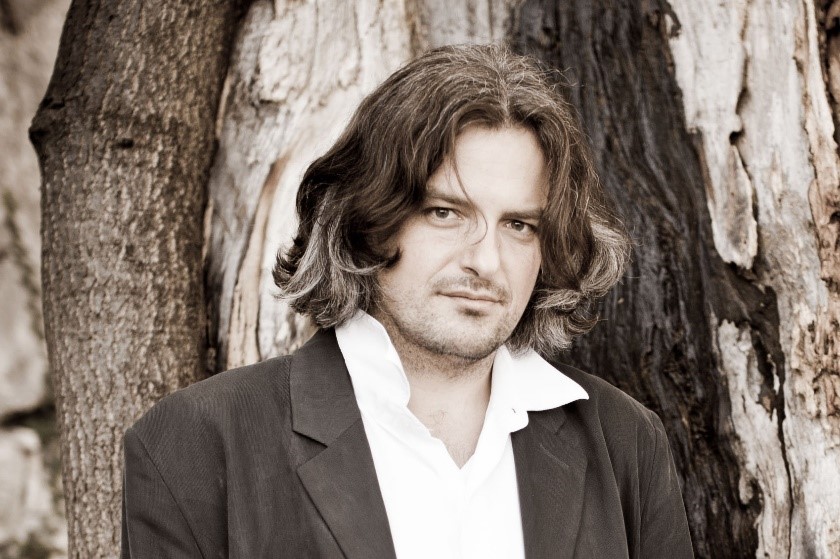 Mate Bekavac, clarinettist is recognised as one of the great clarinettists of his generation, despite of his "commercial shyness". Wherever he appears, he's hailed among colleagues and critics as the "secret favourite", a full-blooded musician and a virtuoso who risks and isn't spoiled by current fashion tendencies of music industry. A devoted, silent seeker with a special, subtly nuanced sound beyond bright or dark, French or German clarinet stereotype tendencies (he is perhaps the only one who ever gained perfection in both systems), always in favour of musical expression and sincere transmission of written or hidden musical texts. His repertoire ranges from baroque adaptations, classical, romantic and contemporary clarinet repertoire, as well as jazz and klezmer influenced pieces. He gained his wide international acclaim by his single time performance of his own arrangement of the Carmen Fantasy, which is documented on YouTube.
He was born in Ljubljana, Slovenia in 1977 and received his first musical education with F.Trzan and D.Brlek in native Ljubljana. He continued his studies at University of Graz with B.Kovacs, then took his MA degree at Salzburg Mozarteum with A.Brandhofer. He also studied in professional studies program at Juilliard School of Music in New York under C.Neidich and in "cycle de perfectionnement" at Paris Conservatory (CNSM) with Michel Arrignon. He has won the Mozarteum 1992 award, the Eurovision Jury award in Warsaw 1994, Grand prix of the Yamaha competition in Vienna 1994 and competitions in Lisbon (1994), Seville (1995), Belgrade(1997). He was also finalist of YCA competition on New York 1996. He appeared as soloist with chamber orchestras Franz Liszt, Cappela Istropolitana, Camerata Israel, Moscow soloists Salzburg soloists, Munich soloists and Zagreb soloists, Orchester der Philharmonie der Nationen, Saarlandischen Rundfunk, Orchester der Oper in Frankfurt, Symphonie Orchester Basel and all Slovenian orchestras.
His special devotion, love and central part of his musical career is chamber music, played with Gidon Kremer, Yuri Bashmet, Lyn Harrell, Heinz Holliger, Irena Grafenauer, Kuss-Philharmonia Berlin-, Arriaga-, Minguet and Doric string quartets, Elena Baskhirova, Khatia Buniatishvili, Katia Skanavi, Patricia Kopachinskaja, Sol Gabeta, Alina Ibragimova, Frans Helmerson, Nicolas Altstaedt, Claudio Bohorques, Maxim Rysanov, Antoine Tamestit, members of Orchester der Bayerischen Rundfunk, MET-orchestra New York and London Symphony orchestra. He collaborated with conductors M. Jansons, B.Haitink, N.Harnoncourt, K.Masur, Z. Mehta, C.Davies, N.Jaervi, C.Mackerras, C.Hogwood, M.Perahia, I.Perlman. Frequently he is guest at festivals in Lockenhaus, Jerusalem, Les Museiques in Basel, Rheingau Musik Festival, Ludwigsburger Festspiele, Dubrovnik, Lucerne and Munich. As an orchestral musician, he played solo clarinet in Chamber Orchestra of Europe, Mahler Chamber Orchestra and Royal Concertgebouw Orchestra.
He tends to enjoy most of his time away from the daily tumult in the Slovenian mountains, studying, researching, developing new insights and ways of musical understanding as well as discovering nature and passionately cooking on open fires for his friends and himself.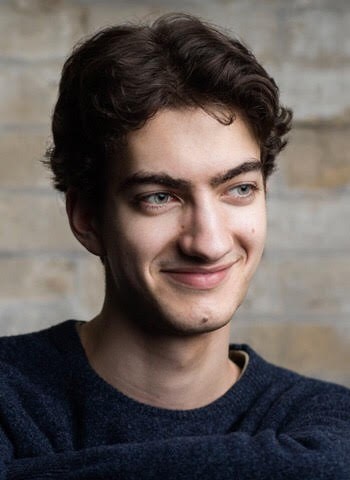 Violinist, Stephen Waarts', innate and individual musical voice is establishing him as a firm favourite with audiences. With a voracious appetite for repertoire, Stephen has already performed over thirty standard, as well as rarely performed, violin concertos and is a passionate chamber musician.
Forthcoming highlights include a return to the Festspiele Mecklenburg-Vorpommern and the Philharmonie Zuidnederland as well as debuts with Orchestre National de Belgique, Szczecin Philharmonic, Slovak Philharmonic, Cape Town Philharmonic and Oulu Symphony. Stephen performed with Martin Helmchen as part of the Luzerner Sinfonieorchester's concert series at Mount Pilatus; he gave both recital and chamber concerts as part of his 2018 Verbier residency at Schloss Elmau, collaborated with András Schiff during the pianist's 2018/19 residency at the Berlin Konzerthaus, and performed with Tabea Zimmermann at the Beethoven-Haus in Bonn. Stephen will also give recitals in Japan, France, Italy and Belgium.
Stephen appeared at the Lincoln Center as part of the 2018 Mostly Mozart Festival, made his debuts with the hr-Sinfonieorchester under Christoph Eschenbach, Kansas City Symphony under David Zinman, Tampere Philharmonic, and Munich Symphony Orchestra. In 2017, Stephen made his New York concerto debut with the Orchestra of St. Luke's, as part of the Young Concert Artists' annual gala, which received critical acclaim in both the New York Times and The Strad. He has made highly successful debut recitals at the Merkin Concert Hall, New York; Kennedy Center, Washington DC, Isabella Stewart Gardner Museum, Boston, the Louvre in Paris, Dubrovnik Summer Festival and Tonhalle Zürich.
In June 2018, Stephen recorded his debut recital album for Rubicon Classics with pianist Gabriele Carcano, featuring works by Schumann and Bartók – composers he champions – and the album was released in November 2018. Stephen will also be collaborating on a Hindemith recording project with Christoph Eschenbach for Ondine Classics.
His prize-winning success at the 2015 Queen Elisabeth Competition – including securing the majority vote of the television audience – boosted international attention. In March 2017 he was awarded the prestigious Avery Fisher Career Grant. Following his debut at the Festspiele Mecklenburg-Vorpommern in 2017, Stephen was awarded the 2017 soloist prize which was presented in September 2018. In 2015, he was awarded the Mozart Gesellschaft Dortmund scholarship following his appearance at the Krzyżowa-Music Festival.
Stephen is currently at the Kronberg Academy studying under Mihaela Martin and recently graduated with a Bachelor's degree from the Curtis Institute, Philadelphia where he studied under Aaron Rosand. Prior to this, he worked with Itzhak Perlman at the Perlman Music Program and Li Lin at the San Francisco Conservatory. In 2013 he won the Young Concert Artists International Auditions in New York, aged just 17. He was also prize-winner at the 2013 Montreal International Competition and won first prize at the 2014 Menuhin Competition.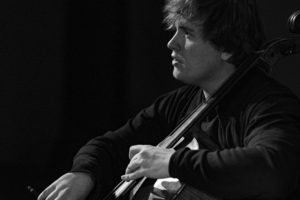 Cellist Ivan Karizna attracted worldwide attention when, at the age of 19, he became the third prizewinner at the 14th International Tchaikovsky Competition in 2011. Since then, he has been able to prove his talent with numerous competition successes, among others as the winner of the music competition of the Società Umanitaria in Milan, the Guilhermina Suggia Competition in Porto or the Luis Sigall Competition in Chile. In 2017 he participated with great success in the renowned Queen Elisabeth Competition in Brussels, where he was awarded the Prix de la Région de Bruxelles-Capitale and the Prix Musiq'3.
Ivan Karizna pursues a very intensive concert career, which takes him to prestigious concert venues all over the world such as the Concertgebouw in Amsterdam, the Berliner Konzerthaus, the Salle Pleyel, the Salle Cortot and the Philharmonie in Paris, the BOZAR-Palais in Brussels or the Benaroya Hall in Seattle. He works regularly with conductors such as Valery Gergiev, Ion Marin, Mikhail Jurowsky and Vladimir Spivakov and has performed with such renowned orchestras as the Mariinsky Theater Symphony Orchestra, the St. Petersburg Philharmonics, the Strasbourg Philharmonics, the Slovenian Radio Symphony Orchestra, the Orchestre de Paris and the Mexican Orquesta Filarmónica de Jalisco.
In 2012 Ivan Karizna appeared at Chamber Music Connects the World, where he performed together with Gidon Kremer, Yuri Bashmet and Christian Tetzlaff. He has also been invited by festivals such as the Yuri Bashmet International Music Festival, the Colmar International Music Festival, the Spring of Arts Festival in Monte Carlo and the Rostropovich Festival in Berlin.
Ivan Karizna was born into a family of musicians in Belarus in 1992 and received his first cello lessons at the age of five. At the age of seven, he was accepted into the class of Vladmir Perlin. From 2009 to 2014 he studied at the Conservatoire National Supérieur de Musique et de Danse Paris with Jerôme Pernoo, graduating with distinction.
Since 2016 he has been studying at the renowned Kronberg Academy for highly gifted violinists, violists and cellists with Frans Helmerson.
"I know Ivan Karizna already for a number of years. This brilliant young cellist and a real personality as a musician always impresses me with his playing. No doubt – he has something special to say and this always will be recognized by music lovers and professionals."
– Gidon Kremer
"Ivan Karizna is an excellent young cellist, one of the best of his generation. He is a natural musician with a brilliant technique and rare tonal beauty. He deserves to be heard."
– Andras Schiff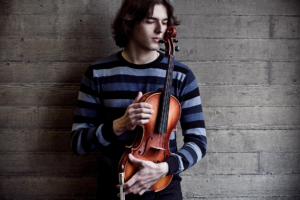 Russian-German violist Georgy Kovalev, born in 1990 in Tiflis (Georgia), is one of the leading violists of his generation.
After finishing his studies with Yuri Bashmet and Matthias Buchholz, he is now currently a student of Nobuko Imai at the Kronberg Academy.
Georgy Kovalev has performed with leading orchestras such as the Kremerata Baltica Chamber Orchestra, New Russia State Symphony Orchestra, Munich Chamber Orchestra, Moscow Soloists Chamber Orchestra, New Japan Philharmonic Orchestra among others.
He is a prize winner and a finalist of international competitions such as Yuri Bashmet International Competition in Moscow, Tokyo International Viola Competition, and the Brahms International Competition. In 2011 he received the Neva Foundation Prize awarded by the Verbier Festival.
His chamber music partners included Gidon Kremer, Christian Tetzlaff, Steven Isserlis, Yuri Bashmet, Fazil Say, Frans Helmerson, Emanuel Ax, Jörg Widmann, Viviane Hagner, Claudio Bohorquez, Lawrence Lesser, at renowned international music festivals such as Schubertiade, Verbier Festival, Ravinia Festival, Heidelberger Frühling, Rheingau Festival, and Kronberg Academy Festival.
Georgy Kovalev has performed at concert venues such as the Victoria Hall (Geneva), Theatre des Champs-Elysées (Paris), Cologne Philharmonic Hall, Kioi Hall (Tokyo), Prinz Regent Theater Hall (Munich), Gordon Bennett Hall (Chicago), Grand Hall of Moscow Conservatory.
His future engagements include solo recitals and concertos in USA, Germany, Ireland, Holland, France, Italy, Austria, Greece.
Georgy plays a viola by Simon Bernand Fendt (London 1820) kindly on loan to him by the Deutsche Stiftung Musikleben.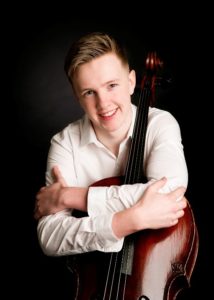 Killian White, cello, is the first cellist to be awarded the RDS Music Bursary, the single largest annual classical music award in Ireland, and one of the largest in Europe. Killian was described as "an outstanding winner who impressed with a superb performance and a crystal clear sense of purpose," by John O'Kane (RTE) and, "undoubtedly a performer with a very exciting career ahead of him" by Michael Duffy (RDS CEO). Prior to being awarded the bursary, Killian was the recipient of numerous awards and prizes, including the Fr Frank Maher Award (2017), the Aileen Gore Cup and RTE Lyric FM Award at ESB Feis Ceoil, the National Concert Hall Young Musician Award, the Flax Trust Award and the Audience Prize at Camerata Ireland Clandeboye Music Festival (2015).
Born in 2000, Killian studied first with Martin Johnson, principal cellist with the NSO, and then with Christopher Marwood at the Royal Irish Academy of Music. He recently commenced a Bachelors degree at the Barenboim-Said Akademie in Berlin, under world renowned professor Frans Helmerson. This year in Berlin he performed at the Pierre Boulez Saal and at the James Simon Gallerie, while also engaging in solo performances in London, Dublin and throughout Ireland.
Killian has a particular passion for chamber music and performed in the National Concert Hall Chamber Music Gathering in January 2017, 2018 and 2019. He recently performed as part of the Ophelia Quartet at the West Cork Chamber Music Festival. He also enjoys orchestral performance and in January 2016 he was principal cellist with the National Youth Orchestra of Ireland. From 2015 to 2017 he participated in the Verbier Festival Junior Orchestra in Switzerland.
Killian has performed as soloist with many orchestras including the RTE Concert Orchestra, Kaunas Symphony Orchestra, the Hibernian Orchestra, Dublin Symphony Orchestra, the Tallinn Chamber Orchestra, Estonia and the New York Concerti Sinfonietta at Carnegie Hall. He has attended masterclasses with many renowned musicians such as Daniel Barenboim, Jerome Pernoo, Mauricio Fuks, and Andres Diaz. Killian is performing on an early 20th Century Belgian Cello kindly loaned to him by the Royal Irish Academy of Music.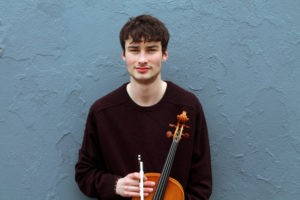 20-year-old Séamus Hickey, viola, studies viola with Marjolein Dispa and Nobuko Imai at the Conservatorium van Amsterdam and chamber music with the Nederlandse StrijkKwartet Academie. Until 2018, Seamus studied viola with Simon Aspell, violin (Adrian Petcu, Siún Milne), piano (Marian McCarthy, Nicholas O'Halloran) and chamber music (Adrian Petcu, Chris Marwood) at the CIT Cork School of Music. In transition year, he studied at the Conservatoire de Nantes, France with Prof Constantin Serban.
He was placed first in the Aileen Gore Cup at Feis Ceoil, Dublin and was awarded the RTÉ Lyric FM award. He performed in April 2019 in the Feis Ceoil Gala Performance at the National Concert Hall, Dublin. In 2018, he was a finalist in the Irish Freemasons' Young Musician of the Year, where he was awarded the John Vallery Memorial Prize for the best performance by a string player. He was awarded the 2018 Capuchin Order Instrumental Perpetual Trophy and Music Bursary for Advanced Recital in Feis Maitiú, Cork.
Séamus has participated in masterclasses with Tabea Zimmerman, Marc Danel, Hartmut Rohde, Nobuko Imai, Sophia Reuter, Denis Brott, Dmitri Ferschtman, Juan Miguel Hernandez and members of the Artis Quartet, Quatuor Danel, the Con Tempo Quartet and the Vanbrugh Quartet. A dedicated chamber musician, Séamus plays in a variety of ensembles. In 2018 and 2019 he performed at the National String Quartet Foundation's Gathering in the National Concert Hall and also in the masterclass programme at the West Cork International Chamber Music Festival with the Red Abbey Quartet. This year he performed with the Irish Chamber Orchestra Academy in St Mary's Cathedral, Limerick.
As the current violist of the Ophelia Quartet, alongside Phoebe and Killian White and Colma Ní Bhriain, he will participate again in the West Cork Festival in Bantry 2019. In Amsterdam, Seamus performs with the Najbolji Kuartet. He also performs with a contemporary, experimental trio '3Violas', exploring the breadth and sonority of the viola's capabilities, while arranging and improvising music for the viola.
Séamus was the leader of the Cork Youth Orchestra from 2015-17. He also plays traditional Irish music and has toured across Europe performing with various ensembles. He has twice been an All-Ireland finalist on the fiddle and was placed 2nd in the All-Ireland whistling championship.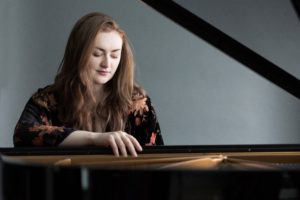 Hailed as "a major talent" after her Carnegie Hall debut with Prokofiev Third Piano Concerto, Irish pianist Ellen Jansson is a graduate of CIT Cork School of Music and recipient of the Cork Orchestral Society Emerging Artist Award. A current student of Mary Beattie, she spent a year of her undergraduate studying on an Erasmus scholarship with Professor Martin Hughes at the University of Music and Performing Arts in Vienna and is also a past pupil of the prestigious Chetham's School of Music in Manchester, where she was the winner of the Chetham's Yamaha Piano Competition.
Ellen has appeared as soloist with the New York Concerti Sinfonietta, National Symphony Orchestra of Ukraine, Esker Festival Orchestra, National Youth Orchestra of Ireland and CSM Symphony Orchestra. She has performed in many prominent Irish venues as well as abroad in Carnegie Hall (New York), Alexela Concert Hall (Tallinn, Estonia), and the
Ukrainian Radio Concert Hall (Kiev).
A multiple prize-winner at Electric Ireland Feis Ceoil in both chamber and solo competitions, Ellen has also been awarded first prize in both the CSM Advanced Recital and Senior Concerto Competitions. She was awarded a Flax Trust bursary at Clandeboye Festival 2016 and she was a finalist in the Yamaha Music Foundation of Europe Scholarship 2017. Ellen was most recently awarded the second prize in the Irish Freemasons Young Musician
of the Year 2018.
An avid chamber musician, Ellen performs regularly with violinist Patrick Rafter, as well as in festivals including the Ortús Chamber Music Festival, Killaloe Chamber Music Festival and the 'Finding a Voice' Festival in Clonmel where she curated a concert of solo and chamber works by Alexina Louie.

25-year-old cellist Sinéad O'Halloran is quickly establishing herself as one of Ireland's most exciting young musicians. Co-founder and Artistic Director of the Ortús Chamber Music Festival, Sinéad is passionate about bringing together Irish and international musicians for concerts, education work and audience development in the wider community.
An avid chamber musician, Sinéad has collaborated with musicians including Tasmin Little, Barry Douglas and the Vanbrugh String Quartet. In 2020 she will make her Wigmore Hall debut at the invitation of cellist Steven Isserlis, as part of the IMS Prussia Cove Autumn Tour, performing alongside Anthony Marwood and Dénes Várjon.
As a member of the European Union Youth Orchestra (EUYO) for seven years, she toured Europe, South America, the United Arab Emirates and the Caribbean. As Principal Cellist of EUYO she led the section at numerous high profile events, including the BBC Proms and The Armistice Day 100 Years Anniversary Ceremony, performing at the foot of the Arc de Triomphe during a ceremony marking the centenary of the end of World War I in front of 84 Heads of State and world leaders, and a live television audience of millions. At the invitation of Maestro Iván Fischer, she has spent the past year working intensively with Budapest Festival Orchestra, touring extensively and performing in some of the world's finest concert halls, including Carnegie Hall, Philharmonie de Paris, Elbphilharmonie Hamburg and Het Concertgebouw. She has also performed with the Chamber Orchestra of Europe, Irish Chamber Orchestra, Spira Mirabilis, Georgian Chamber Orchestra and the iPalpiti Ensemble of International Laureates. She regularly plays under some of the world's most renowned conductors, including Bernard Haitink, Gianandrea Noseda, Vladimir Ashkenazy, Jörg Widmann and Vasily Petrenko.
Sinéad began her musical studies at the CIT Cork School of Music under the guidance of Joan Scannell and Christopher Marwood. At the age of 18 she was offered an Artistic Merit Scholarship to pursue a postgraduate Performer's Diploma at SMU Meadows School of the Arts in Dallas, Texas in the classes of renowned cellists Andres Diaz and Christopher Adkins. She is currently a student of Gregor Horsch (Principal cellist of Royal Concertgebouw Orchestra) at the Robert Schumann Hochschule Düsseldorf. Recent international festival appearances include International Musician's Seminar Prussia Cove (Cornwall, UK), Académie Ravel (Saint-Jean-du-Luz, France), Amsterdam Cello Biennale (the Netherlands) and Banff Summer Arts Festival (Alberta, Canada). She was recently selected as a Fellow for the 2020 Piatigorsky Cello Festival in LA, where she will work with Wolfgang Schmidt.
Sinéad gratefully acknowledges support from the Arts Council of Ireland, Music Network, the Department of Culture, Heritage and the Gaeltacht, the Cork City Arts Office, DAAD and Deutschlandstipendium. She currently plays on a Benjamin Banks cello c. 1780.
 www.sineadohalloran.com.